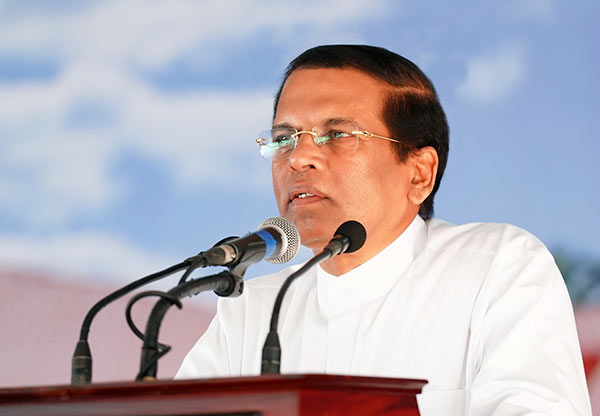 President Maithripala Sirisena says on January 8, 2015, the people of this country contributed to the change the administration of the country which was increasingly moving towards a dictatorship.
Those who forgot those experiences will once again appeal to bring the dictatorial regime again in the country but the President emphasized that he will not allow to tarnish the aspirations of the people of this country they bestowed on January 8, 2015.
He made these remarks addressing a ceremony held in Nikaweratiya, on Thursday (21).
President Sirisena said that ending an era of a dictatorship, the freedom and democracy demanded by the people have been ensured not only 100 percent, but 200 percent in the country. He added that even though some attempted to interpret the present regime as a lenient administration, all of them must understand it is a journey with freedom and democracy.
President Maithripala Sirisena further said that although some attacked the government using the given freedom and democracy in the country in a wrongful manner, he will further strengthen the required correct political and development path for the country joining hands with all those who value the democracy including the scholars and intellectuals.
President Sirisena who mentioned that it was possible to bring a lot of victories and to bring back the international community close to the motherland which was distant from freedom and democracy ensured in the country for the past three and a half years said that no one should contribute to reverse the journey towards the future commenced by the country.
The Nikaweratiya Kotawehera "Veherapura" housing project, which is the 81st Udagammana village, was presented to the people under new Udagammana Program by the President.
(Source: President's Media)