No room will be left for collapse of government – President
Posted by Editor on March 14, 2017 - 7:03 am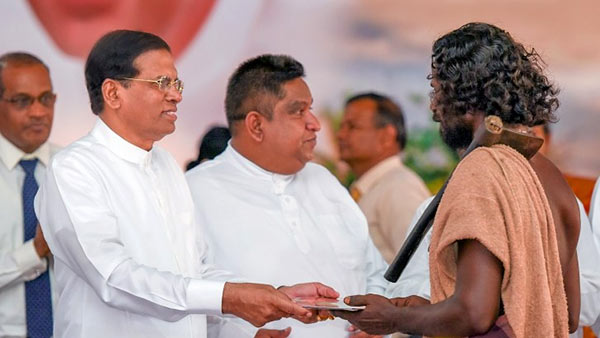 President Maithripala Sirisena emphasized that even though some sections of the society entertain the thought that the present government would collapse today or tomorrow, he would not allow any room for it and he further stated that the Government will fulfill its duties and responsibilities within the appropriate time frame in accordance with the mandate of the people.
He made these remarks addressing the "Deranabisheka Ceremony" to distribute title deeds to people in Uva Wellassa held at the Public Ground, Wellawaya, yesterday (13).
The President also said that only through strengthening the agricultural economy as well as through a proper state management a better future could be built for the farming community of this country and said that the present government has committed to its maximum level in this regard.
President Sirisena said that in a similar way the people has a right to land of the country, the right to cultivate land should go to the farming community.
The President expressed his appreciation over the distribution of title deeds to people in Uva Wellassa, who has been deprived the land right for several decades.
President Sirisena said that today the present government fulfilled a duty, which is ignored by many persons.
About 40 percent of the expected harvest in the Maha Season was reduced due to the change in agricultural plans and goals as a result of drought, the President said that adding in this context, even though some  people who are opposed to the government were pleased with this, many people were thankful that a major disaster could be averted with the blessings of the nature.
The President presented symbolic title deeds to the beneficiaries.
The Uva Provincial Council organized the programme under the direction of the Chief Minister of the Uva Province, Chamara Sampath Dissanayake and Ministers John Amaratunga, Vijith Vijithamuni de Zoysa, Ranjith Madduma Bandara, Deputy Minister, Sumedha G.Jayasena, the Governor of the Uva Provincial , M.P. Jayasinghe, Special Project Director, former  Minister Jagath Pushpakumara and many others participated in this event.
Meanwhile, President Maithripala Sirisena opened the Out Patient Department (OPD) at the Wellawaya Base Hospital, today (13).
He also registered the first patient to the OPD.
Minister of Health  of the Uva Provincial Council, Kumarasiri Rathnayake, Medical Superintendent Manjula Epa and many others participated in the event.
(President's Media)
Latest Headlines in Sri Lanka