North Sri Lankan CM Wigneswaran boycotts Independence Day function
Posted by Editor on February 5, 2017 - 7:58 am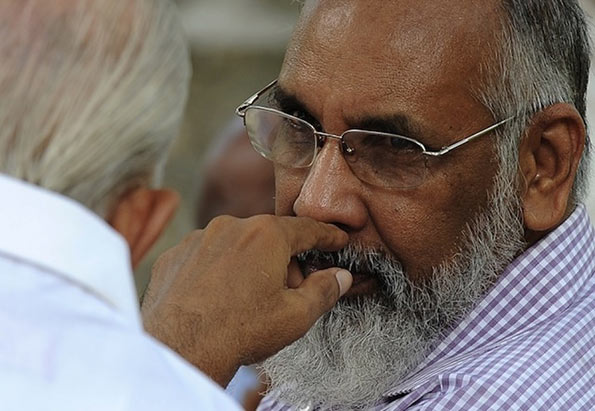 JAFFNA: The Chief Minister of Sri Lanka's Tamil-majority Northern Province, C.V.Wigneswaran, boycotted the 69 th. Sri Lankan Independence Day function here on Saturday, and instead attended protest meetings held at Keppapilavu and Puthukudiyiruppu in Mullaitivu district.
The Governor of the Northern Province, Reginold Cooray, hoisted the national flag, but the Chief Minister chose not to be present.
A small section of radical Tamil nationalists led by Northern Provincial Council members M.K.Shivajilingam and Ananthy Sasitharan, observed the day as a "Black Day" for the Tamils. Wearing black bands and scarves and covering their mouths with black cloth, they held a demonstration in front of the District Secretariat putting forth five demands.
Chief Minister Wigneswaran drove to Keppapilavu to join the protest against the military's refusal to give back 530 acres of land seized from the local people during the war which ended in 2009. After addressing the protesters he went to Puthukudiyiruppu were there was an agitation to recover 19 acres pf private  land from the military.
Shivajilingam told Express that the Tamils want the government to release political prisoners (who are classified by the Sri Lankan state as terrorists or terrorist collaborators); find out the whereabouts of about 20,000 missing persons who had been abducted and might even have been disposed off; return private lands seized during and after the war; institute a war crimes judicial mechanism with foreign judges; and get foreign mediators to find a solution to the Tamil problem with the collaboration of India, the Western Powers, and the UN.
According to Chief Minister Wigneswaran, the government has returned less than six percent of the lands the military had seized  during the war. And according to the British Tamil Forum, by 2016, government had given back only 2565 acres of the 69,990 acres it was holding in 2015.
Shivajilingam said that the people are opposed to the further expansion of the Palaly airport runway because it will mean they will not get some of the seized lands back.
"The existing runway can very well take A320 aircraft which are big enough to meet Jaffna's demand for flights to cities in South India," he said.
There is also frustration in Tamil circles after Prime Minister Ranil Wickremesinghe nullified the importance of the to-be-set-up Office of Missing Persons (OMP). He told parliament that it will be difficult to trace the missing because they might have fled the country.
(Source: The New Indian Express)
Latest Headlines in Sri Lanka