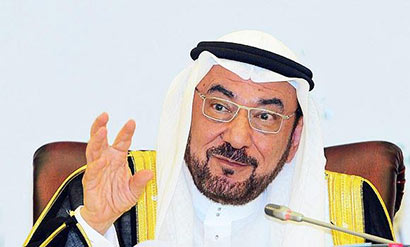 The head of the Organization of Islamic Cooperation (OIC) will visit Sri Lanka on an invitation from Sri Lankan President Mahinda Rajapaksa, according to a senior official from the Sri Lankan Embassy.
Iyad Madani, OIC secretary-general, is due to visit the country shortly.
"This is the first time such a visit is being made to Sri Lanka and we are really proud of it," the official said, pointing out that an advance team will go to Colombo shortly to make preparatory arrangements for Madani's visit.
Sri Lanka has applied for observer status in the OIC.
Last month, the island's ambassador, Mohamed Hussein Mohamed, met Madani in Jeddah to discuss the program for the secretary general's visit to Colombo.
The four-member delegation from the OIC is expected to chalk out the program in coordination with the ministry of External Affairs in Colombo.
Arab News learned that in addition to his meeting with the country's president, Madani would hold meetings with religious organizations in the island to get firsthand knowledge of the current position of the minorities in the island.
In a letter addressed to the Sri Lankan government, the OIC earlier expressed its concerns at reports of ethnic tensions in parts of Sri Lanka following violence, which has affected Muslim community members and their businesses, particularly in the central province of Buwelikade.
The OIC has also pointed out that it has full confidence that the government of Sri Lanka is taking appropriate measures to calm the situation on the ground. The organization has also expressed its willingness to explore with the Sri Lankan government the possibilities of extending humanitarian assistance to the affected communities, including refugees in the northern part of the island.
Muslims form 8 percent of the 22 million population of the island. Eighty percent of the islanders are Buddhist and 12 percent Tamil.
Madani invited President Rajapaksa to visit Saudi Arabia again. (Arab News)