On Special Duty Free permit Vehicles for 225 MPs to arrive
Posted by Editor on July 11, 2016 - 9:02 am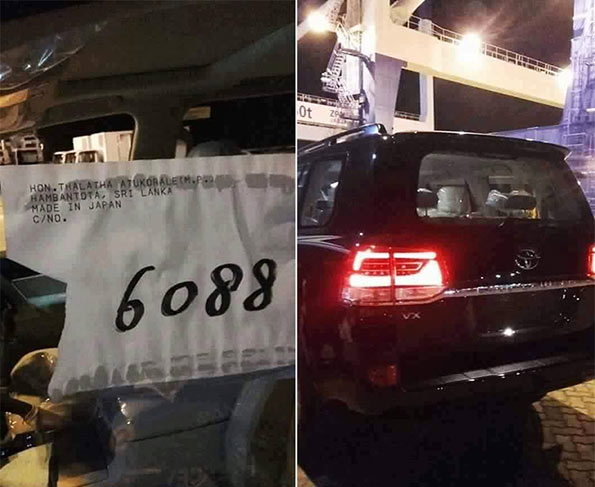 The vehicles of all 225 parliamentarians purchased using the special duty free permit provided to them is to arrive in the country within three to four months, Ministers Nimal Lansa and Thalatha Athukorale said.
Speaking of the controversy surrounding their vehicle purchases in social media with pictures, Deputy Minister of Home Affairs Nimal Lansa said he had purchased his vehicle, a Toyota V8, at a cost of Rs. 8.5 million.
"I did not purchase it through the ministry but through a private car dealer. I used the duty free permit that was provided to me as a parliamentarian to purchase this vehicle," he said.
The Deputy Minister went on to say that he was not the only one who purchased the particular type f vehicle. "Eight others purchased it with me and there are 16 more that will come into the country," he said.
Meanwhile, Minister of Foreign Employment Thalatha Athukorala too confirmed that she too had purchased her vehicle, a Toyota Sahara, with her personal funds and not through her ministry.
"I used the permit to buy the vehicle. Some parliamentarians didn't use their permits as they were waiting for the vehicle prices to increase, so they could bring it down and sell it. I have never done that nor will I ever do so," she said.
The vehicles in her possession were purchased when her brother was a parliamentarian and when she was elected to parliament. "I did not sell any of the vehicles with my permits in 2004 and 2010. I will not do so," she said.
The Prime Minister recently suspended the purchase of vehicles through ministries for a short period.
(Daily Mirror – By Darshana Sanjeewa)
Latest Headlines in Sri Lanka