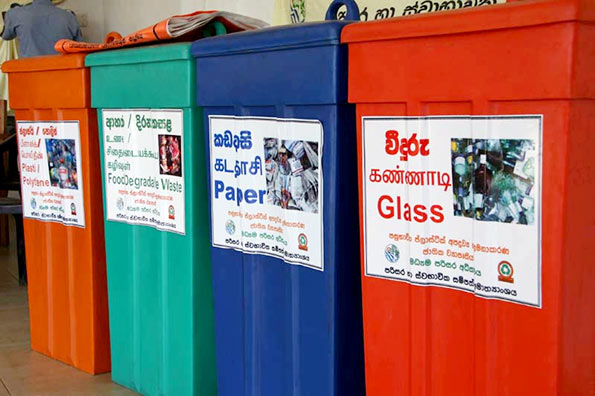 All the Municipal Councils have decided to collect only segregated garbage from November 1, according to a concept of Provincial Councils and Local Government Minister Faiszer Musthapha. The programme will be inaugurated under the patronage of President Maithripala Sirisena at the President's Official Residence. At noon the same day, under the patronage of the Chief of Staff at the Prime Minister's office, Law and Order & Southern Development Minister Sagala Rathnayaka, the same programme will be carried out at Temple Trees.
Plans are underway to expand the programme to Urban Councils and Pradeshiya Sabhas after having understood the issues and challenges and rectifying them. At the end of each month, a review of the programme will be prepared and presented. Police has been directed to take stern legal action against those who do not dispose garbage properly from November 1 and assistance from the tri forces will be sought.
In terms of section 272 (5) of the Municipal Councils' Ordinance, the Municipal Councils hold power to enact by-laws in relation to health and safety. All Municipal Councils have already enacted by-laws on health and safety on which basis garbage disposal and collection takes place. The provisions also call for segregation of waste.
In terms of section 272 (5) of Municipal Councils Ordinance, the penalties for disregarding by-laws on garbage disposal are as follows:
-First time offenders will be fined a sum not exceeding Rs. 1,000.
-Second or third time offenders will be fined a sum not exceeding Rs. 2,000.
-Offenders who repeatedly disobey the by-laws will be fined a sum not exceeding Rs. 25,000 each time.
According to Section 261 of the Penal Code on public nuisance, any act that can be considered causing public nuisance, can be punished.
According to the National Environmental Act, No. 47 of 1980, disposing garbage which can harm the environment is illegal. According to the Section 23 of the same act, if the garbage disposed in a public or private place is harmful to the health of people, the Central Environmental Authority holds power to direct institutions to dispose such garbage in an appropriate manner. If a particular person neglects those directions, he or she will be fined.
The programme would result in a reduction of garbage in cities by 50 percent – 60 percent in urban areas.
(Source: Daily News)