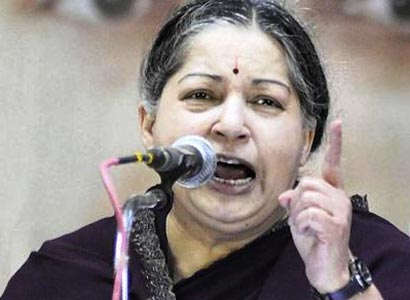 In a show of solidarity, political parties in Tamil Nadu Assembly and outside supported Chief Minister Jayalalithaa's resolution against India's participation in the Commonwealth Heads of Government Meeting in Sri Lanka.
Even the Congress, which is heading the UPA at the Centre, spoke in favour of the resolution. "We welcome the resolution. But we should take care to ensure that our stand in no way affect the Sri Lankan Tamils," said Congress Legislative party leader K. Gopinath.
Deputy leader of the Desiya Murpokku Dravida Kazhagam Panruti S. Ramachandran said the Tamils across the world expected such a resolution and there was no need for India to worry about the Sri Lanka switching its loyalty to China and other countries. "Still we do not understand whether the External Affairs Ministry would take note of the resolution," he said.
Mr. Ramachandran said though the resolution could be seen as an election tactics, it was actually against the human rights violations in Sri Lanka. "As per the United Nations charter, even military intervention is allowed to uphold human rights," he said.
DMK leader M.K Stalin said if Sri Lanka was allowed to host the CHOGM, it would pave way for the country becoming the chair of the commonwealth for next two years and it would be impossible to subject the President of the country into judicial inquiry.
"Former Prime Minister of Australia has signed a petition against Sri Lanka and Judges of 21 countries also expressed their stand against the country," he said.
Mr. Stalin said the DMK's executive meeting and the Tamil Eelam Supporters Organisation had separately adopted resolutions urging India to boycott the Commonwealth meet.
CPI(M) leader A. Soundararajan said Commonwealth was created by the United Kingdom by bringing together its erstwhile colonies and it had no relevance in today's world.
PMK leader S. Ramados said that the Chief Minister should not be content with adopting the resolution, but should lead an all-party delegation to Delhi to press the Central government for further action. (The Hindu)