Over 100kg of Heroin seized in Southern Seas: Foreign nationals among suspects
Posted by Editor on April 2, 2016 - 10:38 am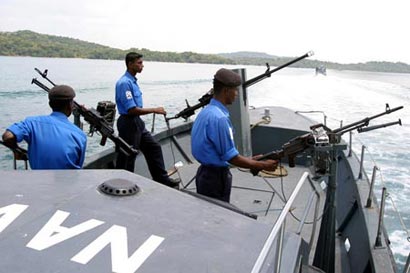 The Sri Lanka Navy states that eleven suspects were arrested and a foreign vessel taken into custody after a stock of Heroin was seized in the southern seas on Friday.
The Navy said that the suspects include ten Iranian nationals and one Pakistani national.
One hundred and one (101kg) of Heroin was seized in a joint operation conducted in the southern seas. The stock of heroin is said to be the largest haul seized at sea in the recent past.
It has been revealed that this large scale drug racket was allegedly carried out by a Sri Lankan agent, together with a number of Pakistani and Afghan nationals.
The Navy pointed out that the Heroin being transported along the southern seas is brought into the country using trawlers in the guise of conducting fishing activities.
The Navy stated that it has also being revealed that the drugs are then transported to Colombo via the Southern Expressway, and are distributed amongst the chief dealers.
Sri Lanka Navy ships Nandamithra, Mihikatha and fast attack boats were used in the joint operation conducted by the Police Narcotics Bureau and the Navy to seize the stock of Heroin.
(Courtesy: News First)
Latest Headlines in Sri Lanka