Over 12,000 tobacco-related deaths annually – Prof Carlo Fonseka
Posted by Editor on November 24, 2011 - 9:58 am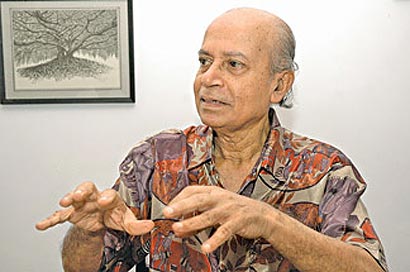 Over 12,000 people die annually due to tobacco use in Sri Lanka while around 100 million people have died in the 20th century due to tobacco related diseases around the world, said National Authority on Tobacco and Alcohol (NATA) chairman Prof. Carlo Fonseka.
Over 6,000 farmers in the country have been involved in tobacco cultivation and the majority of these
farmers have started tobacco cultivation in the 1970s, 80s and 90s. Most cultivations have been carried in over one acre land plots. Eighty percent of these people have been involved in this field for more than 20 years, he added.
Prof. Fonseka was addressing the launching ceremony of the Impact of tobacco vs. alternative crop cultivation on the socio-economic status of farmers written by Prof. H M S Priyanath, S M Ranasinghe Bandara and M A D Nissanka Ariyasena using the results of a research done by them. The ceremony was held at the Hector Kobbekaduwa Agrarian Research and Training Institute. According to this research, tobacco use in Sri Lanka has been on the decline.
"Most of them have been involved in tobacco cultivation for more than 10 years continuously because of the agreements between farmers and tobacco manufacturers.
These farmers believe in their buyers and continue their cultivations because they are able to make a good profit from tobacco cultivation," the research revealed.
Farmers need to be made aware about health and social consequences associated with tobacco cultivation. This could discourage farmers from taking to tobacco farming whilst encouraging them to grow other crops instead, the research pointed out as a recommendation to bring down tobacco farming.
"The government that came into power in 2005 took various measures aimed at eliminating the harms of tobacco and alcohol in the country. It introduced a visionary concept of "Mathata Thitha – a society free of all forms of intoxications".
According to that, we are to take all measures to make a tobacco free country by 2015," Prof. Fonseka stated. Jathika Hela Urumaya MP Athuraliye Rathana Thera also participated.
Courtesy: Daily News
Latest Headlines in Sri Lanka