Over 288,085 marooned by bad weather
Posted by Editor on December 22, 2014 - 12:15 pm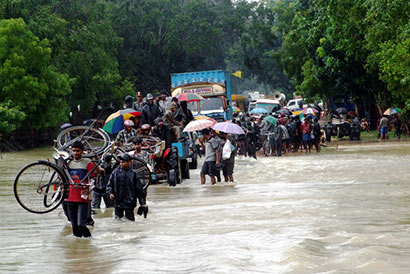 More than 288,085 people have been affected by floods and landslides in the country, the Disaster Management Centre (DMC) said.
According to the DMC, 288,085 people belonging to 78,527 families have been affected while 22,369 people from 6,537 families have been housed in shelters.
The government has instructed the relevant authorities to take immediate measures to ensure relief for the families hit by the bad weather.
The spill gates of several tanks including the Kalawewa, Rajanganaya, Tisawewa, Nuwarawewa, Nachchaduwa, and Mahakanadarawa tanks have been opened.
According to the Water Management Unit of the Department of Agrarian Development the opening of spill gates were done due to water levels of 300 tanks in the Anuradhapira District alone  have reached the danger level as a result of continuous rain.
(Ada Derana)
Latest Headlines in Sri Lanka