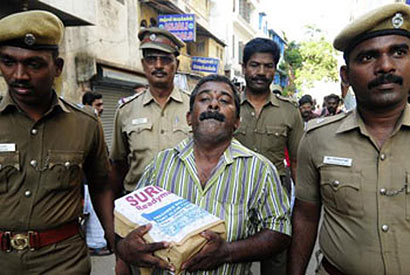 Gold weighing 33.453 kg and worth Indian Rs. 10 million seized by officials of the Directorate of Revenue Intelligence (DRI) in a raid on an apartment at Triplicane, India. Two youths were arrested. The gold was smuggled from Sri Lanka.
DRI sources said they had received information that gold was being brought to Chennai for distribution. Following the tip-off, they kept vigil on the movement of smugglers.
The seized gold comprised crude bars and was smuggled into one of the Southern districts through the sea. It was then brought to Chennai on Tuesday morning.
A senior officer said the gold was stocked in an apartment on Taqiuddin Khan Street in Triplicane. Officials also searched another house on a lane off Bells Road from where they seized documents, laptop and pen drives, which contained information about hawala transactions. The arrested persons were also involved in this activity. Both the suspects are in their mid-20s, the officer said.
Talking about gold smuggling, the officer said that following the announcement of the Lok Sabha elections, smugglers had been keeping a low profile as various enforcing agencies were strictly monitoring the movement of cash. With the elections over, they are resurfacing, he said.
A considerable increase in the commission for smuggling gold is also stated to be one of the reasons for the suspects bringing in such a large quantity.
Explaining the profits involved in gold smuggling, another officer said if someone smuggled 1 kg of gold, he would get a commission of Rs. 3.5 lakh. The smugglers were offered nearly Rs 1.15 crore for their work. They would have to spend nearly Rs 15 lakh for transporting the metal from Sri Lanka in a boat to the coastal area in the southern part of the State. There are also expenses involved in transporting the gold from there to Chennai. The rest of the money would be for the smugglers, the officer said.
This is the biggest seizure by DRI authorities in the recent past.  The record till now was the seizure in October which yielded 32 kg that had been concealed in the toilet of an Indian Airlines aircraft, the Hindu reports.