Packer's $350m Sri Lanka gamble confirmed
Posted by Editor on June 6, 2013 - 12:41 pm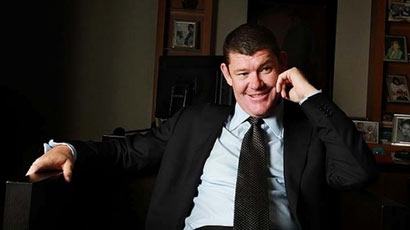 Gambling tycoon James Packer is teaming up with a Sri Lankan partner for a $350 million investment in the country's tourism industry, including a hotel with at least 400 rooms, the island nation's investment promotion minister says.
Mr Packer, who owns half of casino operator Crown, met with Sri Lankan ministers in February to discuss hotel and entertainment investment options, officials said.
Lakshman Yapa Abeywardena, Sri Lanka's investment promotion minister, said the proposed deal was a venture to attract investors from Australia and Singapore to promote tourism.
"This is not a casino business and we have not granted any tax concessions which are adverse to the country," Mr Abeywardena told parliament yesterday, responding to a question raised by an opposition member.
"This will be with a minimum 400-room star class hotel complex and related services including retail shopping, entertainment facilities, fine-dining restaurants, and meeting and convention facilities."
After Mr Packer's visit, Sri Lanka's parliament has sought to amend its Betting and Gaming Levy Act to increase gaming business registration fees and impose a 5 percent tax on the turnover of gaming businesses.
Mr Abeywardena said applicable tax concessions would be given to Packer's deal after parliamentary approval, similar to those granted to a $500 million investment by Shangri-La Asia Ltd.
"This is a $350 million project and there is an opportunity to create 2,600 direct jobs. It will be a joint business venture with 45 percent owned by a local entrepreneur," he said.
He did not name the local partner. Crown did not immediately return calls seeking comment.
Mr Packer is ranked Australia's third-richest person with a fortune of $6 billion, according to Forbes. Last year, he cashed out of his family's publishing and broadcasting assets for about $1 billion to concentrate on his gambling business, which span casinos in Australia, Macau, Britain and the United States.
Mr Packer's Melco Crown Entertainment Ltd plans to build a $1 billion casino in the Philippines in partnership with Philippines' wealthiest man, Henry Sy.
Sri Lanka expects its economy to grow 7.5 per cent this year, fuelled by major infrastructure projects, and is targeting about $1.5 billion in foreign direct investment after missing its $2 billion target in 2012.
The country has allowed casino gambling off and on since at least the 1980s and currently has about nine properties including the Bellagio Colombo, unrelated to the Bellagio Las Vegas operated by MGM Resorts, Reuters reports.
Latest Headlines in Sri Lanka