Pakistan President calls for diversifying trade with Sri Lanka
Posted by Editor on September 1, 2012 - 9:08 am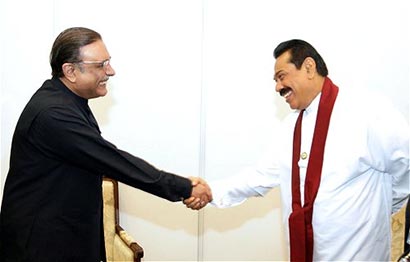 Pakistan's President Asif Ali Zardari has called for diversifying trade between Pakistan and Sri Lanka to promote greater economic interaction between the two countries.
During a meeting with Sri Lankan President Mahinda Rajapaksa on Thursday at the Conference Centre in Teheran on the sidelines of the 16th Non-Aligned Movement Summit, President Zardari has pointed out the need to urgently remove the obstacles in way of having greater economic interaction of the two countries.
He has also expressed the satisfaction that the trade volume between the two countries was following an upwards trajectory.
The Pakistani President has said that there is an urgent need to attract more trade as indicated by the Joint Commission last year.
Both countries agree that bilateral trade between Pakistan and Sri Lanka has the potential to increase much more than the current volume of US$ 400 million and aim to expand the bilateral trade to reach US$ 2 billion in the next three years.
The US$ 200 million dollars Buyer's Credit Facility offered by Pakistan to Sri Lanka should be fully utilized to maximize bilateral trade, President Zardari stressed.
President Zardari expressed the hope that the two countries would continue to stand together at regional and multilateral forums.
President Rajapaksa has appreciated Pakistan's support and cooperation in eliminating terrorism in Sri Lanka and added that the relations between the two countries have matured and diversified with time.
The two South Asian countries are members of various regional and international bodies like UN, commonwealth, NAM and SAARC and share common perceptions on almost all regional and international issues and work together on all these forums.
Sri Lanka's Extrnal Affairs Minister Prof. G.L. Peiris and Pakistani Foreign Minister Hina Rabbani Khar also attended the meeting.
Courtesy: Colombo Page
Latest Headlines in Sri Lanka