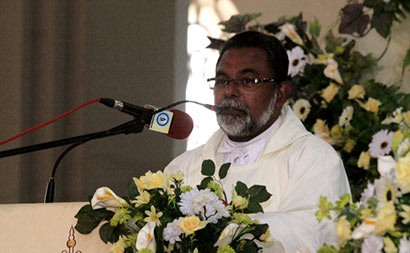 In spite of the UNP on behalf of the Opposition urging the government to conduct the presidential election after the scheduled papal visit, the Catholic Church is strongly opposed to such a move.
The Catholic church was of the opinion that a national level election shouldn't be held immediately after the proposed papal visit to ensure the Holy Father's visit wasn't exploited by any political party.
Rev. Father Cyril Gamini Fernando told The Island yesterday that the government had been apprised of their position. Rev. Father Fernando said that the Church had always asserted that a national level election shouldn't be held in the immediate aftermath of a papal visit.
Responding to a query, Rev. Father Fernando politely declined to set a timeframe.
Dismissing recent allegation that President Mahinda Rajapaksa had demanded that the Church cancel the scheduled papal visit, the priest, who is attached to the Media and Information Secretariat said that in case the government decided to call for a snap presidential poll ahead of the papal visit, there should be an adequate gap between the two events.
The Church spokesman again declined to specify how long the gap should be.
The Church stressed that the Catholic Bishops Conference of Sri Lanka had extended an invitation to Pope Francis before the government of Sri Lanka followed up with its own invitation.
The Church said that it had received an assurance from the government that everything would be done to ensure an incident-free environment in the run-up to a presidential poll.
(Courtesy: The Island)