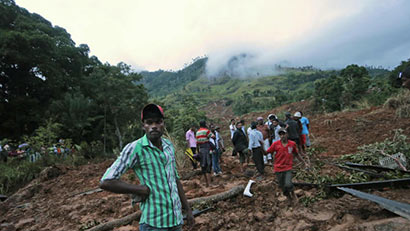 COLOMBO: Heavy rain slowed the search on Sunday for victims of a major mudslide on a tea plantation in central Sri Lanka that police say left 38 people missing and presumed dead, officials said.
A military official said rain were creating problems for rescuers using heavy equipment to dig through tonnes of mud at the site in the picturesque Koslanda region, around 200 kilometres east of Colombo.
Additional soldiers were being sent to the site, taking the number of searchers to more than 800, as they discovered on Sunday debris from homes and a vehicle but no bodies, Major General Mano Perera said.
"Heavy rain has made it difficult for us… some vehicles are getting bogged down," said Perera, who is leading the search.
"But we have deployed more men and we will keep up the operation till we recover all the bodies."
Sri Lanka on Saturday reduced to 38 the number of dead and missing from Wednesday's mudslide at Meeriyabedda tea estate, from about 100. Police said interviews with survivors and officials found that the number of victims was far below earlier estimates by disaster management authorities.
The authorities have recovered six bodies and the search is on for 32 others missing and presumed buried, police said.
Officials say more than 1,800 people living in neighbouring tea plantations have taken shelter in three schools, fearing more mudslides in the tea-growing mountain region that has become unstable from the heavy rains.
Sri Lanka, a tropical island at the foot of India, is prone to weather-related disasters, especially during the monsoon season.
(AFP)