Paranagama report more serious than UN Report – Rajitha
Posted by Editor on October 23, 2015 - 8:12 am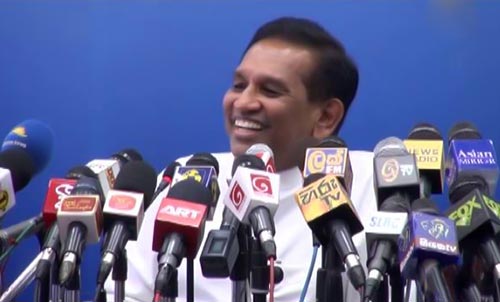 If the Paranagama Report was released before passing the Geneva Resolution, the resolution could have been much more negative than the current one. The Paranagama report is much more serious than the UN Report, Cabinet Spokesman and Health Minister Dr. Rajitha Senaratne said.
Addressing the weekly Cabinet press briefing at the Government Information Department Auditorium, Colombo yesterday, he said the Paranagama report states that the judiciary system of Sri Lanka is very weak and this factor can be accepted as a reason to obtain the support of foreign experts.
It as the former President who appointed three foreign experts to the Paranagama Commission, Dr. Senaratne said.
According to Minister Senaratne, the Paranagama Report clearly states incidents such as White Flags, Channel 4, Isipriya murder, Charles murder etc should be investigated.
"But the Geneva Resolution has not named anything specific. The 20th section of the Resolution very clearly says everything will be done with the consent of the Sri Lankan government and only with the agreement of the Sri Lankan Government. Therefore there is no reason to worry. If Sri Lanka does not agree, nothing can be done."
Minister Senaratne pointed out that the resolution totally accepts the sovereignty and unitary status of Sri Lanka.
The Geneva Resolution has mentioned nothing about land and police powers in the 13th Amendment. It only requests the government to assist Provincial Councils to operate actively under the 13th Amendment. It is Sri Lanka which decides what to do and how to do it. The UN has expressed its satisfaction about the progress made by Sri Lanka on January 8, August 17 and thereafter, he said.
(Daily News)
Latest Headlines in Sri Lanka