Pay Rs. 240 per US Dollar for worker remittances – Minister
Posted by Editor on January 6, 2022 - 7:47 am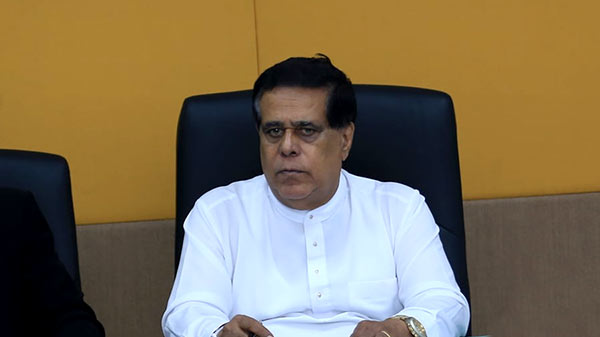 Labour Minister Nimal Siripala De Silva urged the government to offer Rs. 240 per US Dollar to Sri Lankan migrant workers for their remittances.
He said that this was the best solution to the dollar crisis faced by the country today, and if the dollars sent by migrant workers were not paid that much, they would inevitably seek other illegal avenues to remit money. He added that if the government fails to provide the market rate for US dollar remittances to the migrant workers they would get used to the informal 'Undiyal' money transferring system.
The Minister stated that if the Treasury does not take the necessary policy decisions to achieve the economic effectiveness of the work that has been done so far, the work implemented will not achieve the desired national results.
He was speaking at an event held at Sri Lanka Bureau of Foreign Employment (SLBFE) office in Battaramulla on Monday to hand over Rs. 2.5 million to the wife and children of Priyantha Kumara who was murdered in Sialkot, Pakistan.
"We have set a target of sending 300,000 migrant workers for overseas employment this year. But even though we have planned to send 300,000 migrant workers for foreign employment, we need to focus on whether we are getting the foreign exchange we expect from them", he highlighted.
The Minister questioned whether any worker would send dollars to Sri Lanka for Rs. 200 when the black market pays Rs. 245 per dollar. Therefore he highlighted that even by sending 600,000 workers the expected economic strength will not be gained.
The Minister said he has already submitted a proposal to the Cabinet of Ministers to provide a minimum of Rs.240 per every US dollar remitted by the country's migrant workers.
"The Bureau of Foreign Employment is an institution that makes a significant contribution to strengthening the economy of this country. But it should not be an institution that encourages human trafficking or sells women in our country to strengthen our economy. The Bureau of Foreign Employment Act also emphasizes that the Bureau's primary responsibility is to ensure the safety and welfare of migrant workers. We do not condone sending our women overseas jobs unsafely because we do not have dollars."
He said that an indictment has been sent to the government in accordance with the Charter Against Human Trafficking issued by the US State Department. He said that certain media reported that Sri Lankan women were locked in rooms and were sold to buyers by the agencies. "If we do not respond to these allegations and take further action on those allegations, we may not be able to send our workers abroad for employment. Accordingly, I have begun to amend the relevant Bureau Act and formulate new laws," he added.
(Source: Daily News – By Dinuli Francisco)
Latest Headlines in Sri Lanka