PC polls soon – President
Posted by Editor on October 30, 2018 - 8:46 am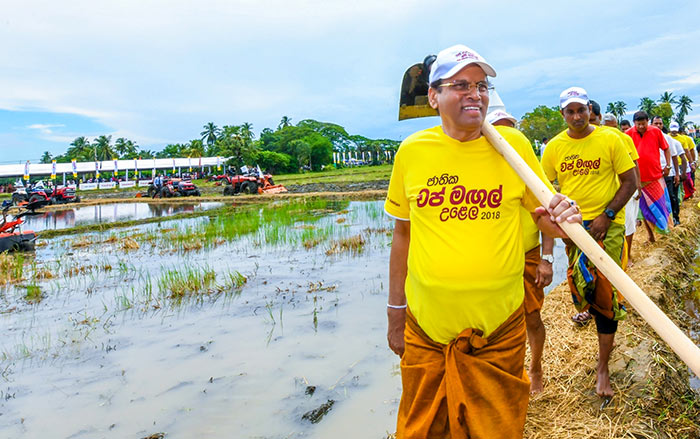 President Maithripala Sirisena yesterday said that the Provincial Council elections will be held soon to strengthen democracy in the country.
The President was speaking at the Vap Magul ceremony held at the Sandagirigama Paddy field in Thissamaharamaya.
President Sirisena further said that officers of six provincial councils are in a helpless state due to lack of a precise political leadership or guidance. The officers can accomplish duties to a certain extent with the circulars, but there must be a people–oriented political leadership that offers better services, he pointed out.
Hence, discussions will be held as soon as possible within tomorrow or the day after tomorrow with the Elections Commission about holding Provincial Council Elections, said the President.
President Sirisena said that immediate solutions will be provided to the problems of the people of the Northern and Eastern Provinces.
The President said that the people who held responsibilities failed to respond to the issues of the people of the North within the last three and a half years and further stated that the proposed housing projects for the people of North were only limited to mere Cabinet discussions.
He invited all the politicians, government officers, as well as Mahasangha and priests of other religions and all the citizens to join hands with the new government with a strong sense of friendship, brotherhood and peace to reduce the burden on the people for their struggle for living, achieve economic prosperity of the country, strengthen a well-disciplined governance and to move forward aligned with the local culture. President Sirisena further said that, even though there is a need for technology and the most updated knowledge of the world, Sri Lanka, as a nation which hails its local heritage, there should be an agriculture-based economic development program which aligns with the local food style and culture.
The President also symbolically distributed paddy seed and fruit plants to the farmer community.
The Mahasangha, priests of other religions, former Speaker Chamal Rajapaksa, Mahinda Amaraweera, Shan Wijeylal Da Silva, Angajan Ramanthan, Cadar Masthan and other public representatives, and a large number of famers were present at the event.
Meanwhile, the Kidney Unit of the Base Hospital of Tissamaharama, Debarawewa was also opened by the President. The new dialysis unit and the laboratory were also observed by the President.
(Source: Daily News / Pix by PMD)
Latest Headlines in Sri Lanka