Peace & reconciliation cannot be built only through constitution and laws – President
Posted by Editor on January 19, 2016 - 8:34 am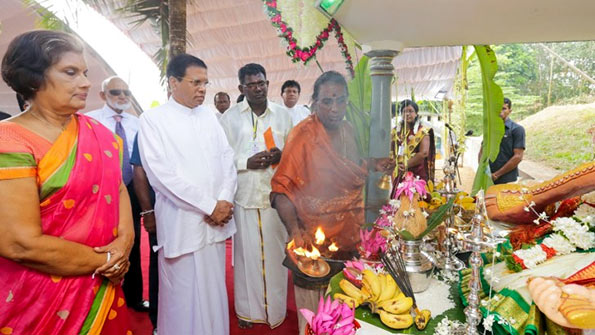 "Building of the peace and reconciliation among the people in the country cannot be done only through enacting laws and adopting a new constitution. It can only be done through the religious philosophy", says President Maithripala Sirisena.
"Therefore, I request every religious leader to come forward to take forward the program commenced by the government to build the peace and brotherhood by alleviating the fear and suspicion among every community in the country", he added.
The President made these remarks, participating at the Thaipongal ceremony held today (Jan. 18) in the Hindu College in Payagala, Kalutara, organized, under the program to use religious and cultural activities as a tool to promote national peace and reconciliation among school children.
The President who arrived in the college was welcomed by the children according to Hindu customs and escorted him inside the college.
President Sirisena was blessed by ritualistic Hindu religious performances.
The President, addressing the gathering at the ceremony pointed out that the divisions of communities in accordance with their race and religion should not be a barrier for the task of building the country. "It is my objective to see every community in this country living in peace and unity in a free and fair society", he said.
The President said that the religious leaders of the country can fulfill more responsibilities than the politicians to achieve success in the process of national reconciliation. He also requested the Maha Sangha, and religious leaders of Hindu, Islam and Catholic religions to join with the government to lay the foundation to prevent recurrence of the war and to strengthen the national reconciliation process.
People's representatives, including former President Chandrika Bandaranaike Kumaratunga, Ministers Rajitha Senaratne, Mahinda Samarasinghe, State Ministers A.H.M. Fauzie, Chief Minister of the Western Province, Isura Devapriya, Western Provincial Council Ministers, Gamini Thilakasiri and Ranjith Somawansa, the Principal, Staff of the school, parents and others participated in the event.
(President's Media)
Latest Headlines in Sri Lanka