Pensions for All
Posted by Editor on April 26, 2011 - 4:25 pm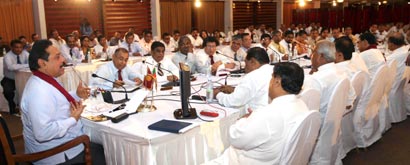 The government has decided to provide pension rights to all employees of Government Institutions and Private Sector who do not get pensions at present.  A special discussion in this regard was held at temple trees yesterday, under the patronage of President Mahinda Rajapakse.
A large number of trade union representatives attended this discussion.  These discussions focused on the establishment of  three Pension Funds,  namely  Employees' Pensions  Contributory Fund, Expatriate Employees' Pensions Fund  and Self Employees' Pensions  Contributory Fund.
It was also proposed to implement this pension schemes within one year, in fulfilling the pledge given in the Mahinda Chintana that all those who do not receive pensions will be ensured a pension in their retired life.  The President also pointed out that with the increase of life expectancy in the country, the demand for pensions for all has grown. The President emphasized at yesterday's discussion that it is the duty and the responsibility of the government to ensure the wellbeing of the employees and facilitate for them to live on their own without being a burden to their family members, after retirement.
It was also pointed out that the 2002 to 2003 government abolished pension rights, and during that period recruitment to government service was also stalled.
The Trade Union representatives praised the government for introducing an expeditious pension scheme for the private sector.
Ministers Basil Rajapakse, Dr.Sarath Amunugama, W.D.J.Senevirathne, Wimal Weerawansa,  Anura Priyadarshana Yapa,  Gamini Lokuge, Dilan Perera and Deputy Minister Geethanjana Gunawardena and a number of government officials participated in this discussion. (niz)
Source: Government News Portal
Latest Headlines in Sri Lanka