Pictorial warnings on cigarette packs; Tobacco use kills one person every six seconds:
Posted by Editor on March 6, 2012 - 7:01 am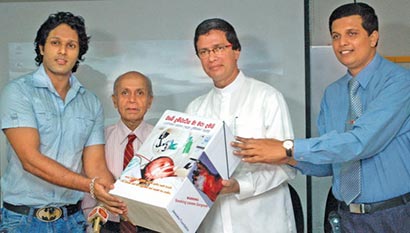 The government is planning to bring in two important pieces of legislation which when implemented, could result in a significant reduction in tobacco smoking in the country. "The government will bring in laws which would require the industry to include pictorial health warnings on all tobacco packaging and also to ban smoking in all public and work places," Health Deputy Minister Lalith Dissanayake said during a media workshop organized by the Jeevaka Foundation.
The organizations involved in the fight against tobacco have been urging the authorities to implement the two smoke-free laws, to make the public aware of it's toll on health and protect non-smokers from second hand smoke.
According to the World Health Organisation (WHO), tobacco use kills one person in every six seconds.
The deputy minister said that amendments to the National Authority on Tobacco and Alcohol Act has been sent to the legal draftsman and was been translated into all three languages.
Dissanayake said that the Health Ministry was expecting the finished document within the next two – three months and then forward it to the perusal of its health committee before presenting it in Parliament for approval.
The deputy minister also noted that Health Minister Maithripala Sirisena was making special efforts to realize this at the earliest.
He said that the government led by President Mahinda Rajapaksa always stood for progressive legislation of this kind, which has the good health of the people at heart, through initiatives such as Mathata Thitha, which aims at weaning the public away from the imbibing of death-inviting intoxicants and other harmful substances.
It is expected that the pictorial warnings would come first which when implemented would require the industry to include graphic warning labels such as deceased lungs, oral cancer, wasted gums, children afflicted due to second-hand smoke etc covering at least 50 percent of the pack, according to NATA chairman Prof Carlo Fonseka.
It would come into effect with the empowerment of Article 11 of the WHO sponsored Framework Convention on Tobacco Control which Sri Lanka has agreed to enact as a party to the FCTC.
Cancer Care Association chairman and National Cancer Institute, Maharagama medical officer Dr Samadi Rajapaksa said that pictorial warnings on packaging's was one of the most influential modes in communicating risks of tobacco use to users. "Graphic pictorial warnings can be very helpful in decreasing tobacco use by increasing public awareness of its dangers," he added.
Dr Rajapaksa also pointed out that studies carried out after the implementation of pictorial package warnings in many countries reveal remarkably consistent findings on the positive impact of the warnings in reducing tobacco use.
While welcoming moves to ban smoking in all public places, Dr Rajapaksa said that Public Health authorities worldwide have concluded that there is no safe level to secondhand smoke exposure.
Secondhand smoke has proved to cause lung cancer, heart disease, sudden infant death syndrome, low birth weight and serious respiratory conditions, he said.
He also said that a cigarette contains 4,000 harmful substances with 40 of them having a direct impact on cancer. In Sri Lanka, the doctor says that over 40 percent of cancers are directly related to tobacco use.
Dr Rajapaksa said that he had informed the President on the importance of enacting the above laws and he had received a reply saying that it had been referred to the health minister.
Meanwhile, actor Roshan Ranawana speaking at the workshop attended by journalists representing nearly 40 electronic and print media organisations, said that Sri Lanka had lost many talented artistes prematurely due to tobacco use and alcohol abuse. He urged the young generation to stay away from both.
According to WHO, the leading preventable cause of death, tobacco kills more than five million people every year. One tobacco death occurs every six seconds. Tobacco killed 100 million in the 20th century and if preventable measures are not taken it could kill one billion in the 21st century.
Courtesy: Daily News
Latest Headlines in Sri Lanka