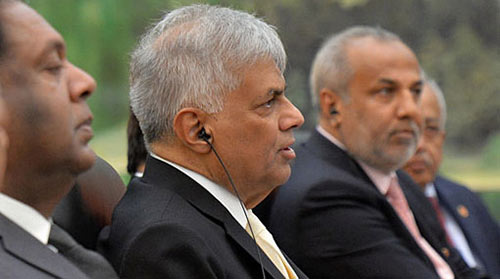 Chinese investment in Sri Lanka will not pose a threat to other countries, including India, according to the island nation's prime minister.
During Prime Minister Ranil Wickremesinghe's visit to Beijing, the Sri Lankan government sought more investment despite a compensation claim from a Chinese company involved in a major port project remaining unresolved.
Wickremesinghe, who wrapped up his first visit to China over the weekend, said that his government is giving special status to the Colombo Port City project and that the port's profitable future has attracted many Chinese investors, the ECSN news agency reported.
"The port city and megalopolis is not a threat to anyone. It's an opportunity for everyone to make money," he said.
"We met with many Chinese companies and they are all interested in coming into Sri Lanka," Wickremesinghe said.
The Port City project, contracted to State-owned China Communications Construction Co in 2013 with investment of $1.4 billion, is Sri Lanka's biggest single foreign investment. However, the project was suspended in January last year after the new Sri Lankan government ordered a review.
The Chinese company, which has estimated that the suspension will cause losses of more than $380,000 a day, has sought compensation of $125 million, according to the Sri Lankan government, which has said it cannot pay and wants to negotiate.
Premier Li Keqiang told Wickremesinghe that China will work with Sri Lanka to push for a resumption of the project.
Wickremesinghe said on Saturday that he did not discuss the compensation issue with Chinese leaders during his visit, as he did not think it was a major problem.
He said the port city is a joint venture involving Chinese and Sri Lankan companies, but Indian companies would be welcome to join it. His administration has had discussions on the issue with the Chinese government and Chinese banks.
The port city is part of a plan for a "megalopolis" with a population of 8 million, and there will be more opportunities for infrastructure development by Chinese and other companies, Wickremesinghe said.
"We welcome Chinese investment in areas including tourism, infrastructure and power," he added.
Describing Sri Lanka as the most important country in the Indian Ocean for China's Belt and Road Initiative, Wickremesinghe said his nation is reviving its position as an Indian Ocean hub, which is connected to the China-proposed 21st Century Maritime Silk Road.
(ECSN)