Police and Judiciary "can do nothing"
Posted by Editor on November 4, 2011 - 9:24 am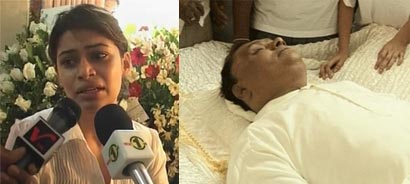 Legal procedures were overlooked when Duminda Silva was taken to Singapore for further treatment says Hirunika Premachandra, the daughter of murdered presidential advisor Baratha Lakshman Premachandra.
Parliamentarian Duminda Silva was treated for brain injury as a result of gunshot wounds sustained during the shooting that killed President's advisor Baratha Lakshman Premachandra. It is reported that Duminda Silva was air lifted to Singapore for further treatment on the 1st of November.
Above the law
Speaking to Sandeshaya, Hirunika Premachandra said "it is regretful that legal process was not followed in this instance".
"It is clear from the evidence that Duminda Silva involved in this case and he should be in police custody. He should not have been sent abroad without a magistrate's approval," she added.
Charging that Duminda Silva has been placed above the law, the Asian Human Rights Commission (AHRC) says "under normal circumstances anyone who is suspected of having been part of the commission of a murder would have been placed under arrest, irrespective of his condition".
"Foreign treatments are possible only with the permission of the magistrate and on the conditions that a magistrate would impose under these circumstances," AHRC added.
Conspiracy
"No one knows any thing about Duminda Silva's condition and people have a right to know the truth" said Hirunika Premachandra.
Alleging that Parliamentarian Duminda Silva had conspired to kill Baratha Lakshman Premachandra, Hirunika Premachandra said it is clear from the evidence that Duminda Silva is a suspect.
"He was there when my farther was murdered" she said.
Citing the erosion of rule of law in Sri Lanka AHRC said "The criminal investigating authorities and the courts can do nothing when the executive, by their unofficial orders, make anything or anyone outside the law."
Baratha Premachandra and two of his bodyguards were killed in a shoot out in Angoda between his supporters and the supporters of Duminda Silva, MP who is also a Defence Advisor.
The late Bharatha Lakshman Premachandra was a Presidential Advisor on Trade Union affairs and a leader of Sri Lanka Mahajana Party (SLMP).
BBC
Latest Headlines in Sri Lanka