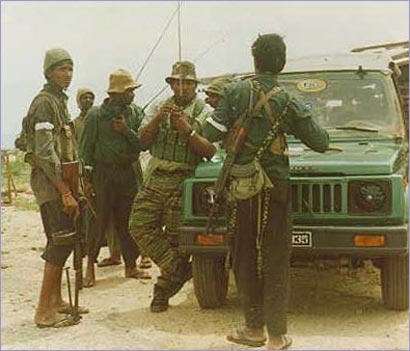 News Source: The Hindu
CHENNAI: Tamil Nadu's Director-General of Police Letika Saran on Thursday dismissed as baseless Sri Lankan Prime Minister D. M. Jayaratne's allegation that the Liberation Tigers of Tamil Eelam (LTTE) had three secret training camps in the State close to its border with Kerala. "There are no LTTE camps in Tamil Nadu. The press reports appearing in this regard are baseless and devoid of any reality," Ms. Saran said in a press release.
"Tamil Nadu has been maintaining utmost vigil and has been on the high alert with regard to any information on the activities of LTTE on Indian soil. The intelligence wing of the State is fully geared up and constantly monitoring such information, and the State police, including the Coastal Security Group, are keeping a vigil in coastal areas of Tamil Nadu," she said. The police were taking action immediately on any report or intelligence input received from any quarters. She also denied the claim that the U.S.-based V. Rudrakumaran and Norway-based Nediyavan and Vinayagam were running the training camps. There was no evidence to suggest that a base had been established in Tamil Nadu with a view to creating "a civil war in Sri Lanka and to kill Indian leaders." She also denied that Pulendra Master was running such secret LTTE camps.
Referring to Mr. Jayaratne's remarks in the Sri Lankan Parliament that the LTTE was behind the attack on the Maha Bodhi temple in Chennai, Ms. Saran said the LTTE had no role in it. "The Mahabodhi temple in Chennai was attacked by the sympathisers of Sri Lankan Tamils, and the real accused have been arrested. The LTTE has no role in this affair and their very presence in Tamil Nadu is denied."