Police investigating Mervin
Posted by Editor on April 1, 2012 - 8:11 am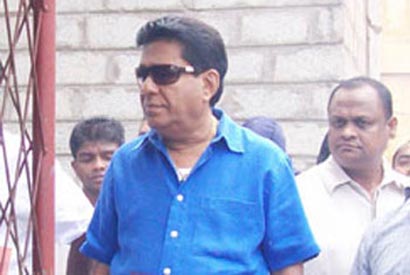 The police are conducting investigations on the details of the statement made by Minister Mervin Silva concerning journalist Poddala Jayantha.
Police Media Spokesperson SP Ajith Rohana told Ceylon Today that legal action would be taken in connection with the statement if the police are able to find adequate evidence relating to the statement.
"The police are conducting investigations on the remark made by Minister Mervin Silva about the attack on a journalist. According to criminal investigation procedures, there are five methods in which the police are supposed to analyze such a statement," he said.
SP Rohana said that such remarks are sometimes made by the suspect for no apparent reason, due to a mental disorder, in order to gain publicity, to get rid of a person who is posing a threat to a particular individual and to determine whether the statement is actually valid.
Currently the police are analyzing the statement made by Minister Silva about attacking and chasing away journalist Poddala Jayantha immediately after stating that he himself has been responsible for the series of attacks on journalists in the country.
The Minister also previously threatened to break the limbs of human rights activists Sunanda Deshapriya, Nimalka Fernando and Dr. Pakiasothy Saravanamuttu, accusing them of having worked against Sri Lanka at the United Nations Human Rights Council held in Geneva earlier this month.
Courtesy: Ceylon Today
Latest Headlines in Sri Lanka