Police try to stop marchers from reaching president's office in Sri Lanka; clash injures 13
Posted by Editor on December 1, 2011 - 7:07 am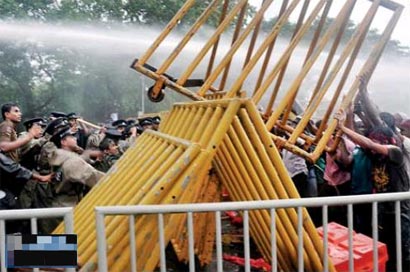 COLOMBO, Sri Lanka – Protesters wanting the budget to include employment help for the nation's youth clashed with police in Sri Lanka's capital Wednesday, and 13 people were hurt.
Police barricaded the road to stop the march from reaching the president's office and later used a water cannon to disperse defying protesters who attempted to break down the barricades.
Eight policemen and five protesters were hurt in the clash, said Pushpa Soysa, a spokeswoman for Colombo National Hospital.
The protesters say the budget contains no proposals for employing the country's youth.
Last week, ruling party lawmakers attacked opposition members who held placards and protested the budget inside Parliament.
AP / Canadian Press
Latest Headlines in Sri Lanka