POLICE WATCHED LIKE GIRLS WITH FOLDED ARMS WHILE GOONS ATTACKED US: ROSY
Posted by Editor on February 9, 2011 - 11:40 am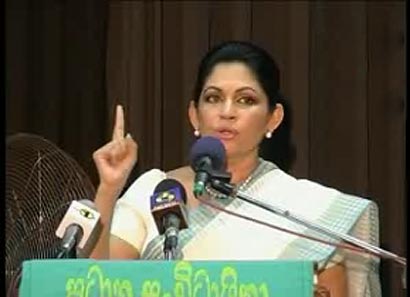 It is questionable whether Sri Lanka has gained real independence, says Rosy Senanayake, United National Party parliamentarian.
She made this statement during a function to award certificates held in Colombo yesterday at the auditorium of the Colombo Public Library.
"The police, folding their arms like girls, simply watched while we were being attacked with poles, spikes and bombs, during our vigil and peaceful march.
"We engaged in a peaceful activity, holding candles at 6.30 pm on the 4th of February, demanding the release of Sarath Fonseka, who has been imprisoned despite providing leadership to the brave war heroes who freed our country from the scourge of terrorism.
"Did the officials who are supposed to protect the law, fulfill their responsibilities? It is questionable if we truly have been granted freedom, if the defenders of the law acted in this way due to orders from the top, and allowed such uncouth acts, where journalists were attacked and the Sirasa camera was stolen," said Rosy.
Courtesy: News First
Latest Headlines in Sri Lanka