Economist wants govt. plans reviewed following Rs. 50 bn flood damage
Posted by Editor on February 9, 2011 - 9:12 am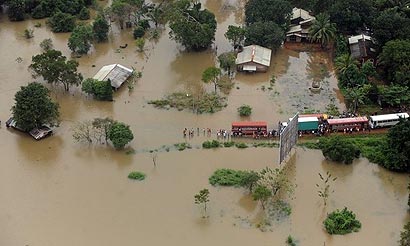 Now that the government has estimated the damages caused by floods at over Rs. 50 bn, it should take tangible measures to cut down on waste, corruption and irregularities to save money needed for relief programmes, says UNP Parliamentarian Dr. Harsha de Silva. Disaster Management Minister Mahinda Amaraweera, on Monday (7), made the flood damage assessment, while warning that the actual losses could be much higher. MP de Silva urged the government to review all its ongoing projects as well as future ventures to identify prospective high priority projects. But no project could be as important as helping the flood-affected people to stand on their feet, the MP said, asserting that the government seemed blind to rapidly deteriorating ground realities.
He lashed out at the government for failing to identify high priority projects and implement them before going for high flying projects such as hosting Commonwealth Games in 2018, which could cost the State coffers as much as $ 10 billion. The government had spent some Rs. 400 million to formulate the 2018 Commonwealth bid, the MP alleged. He said foreign PR firms hired at exorbitant cost to the public purse couldn't shield the government either here or abroad.
Dr. de Silva lambasted the government for trying to blame rising vegetable prices on floods. Vegetable prices had gone up before the first flash floods this year, causing immense difficulties among the people, he said.
He said that the public hadn't experienced peace dividends due to lack of economic efficiency on the part of the government, which acted as if it could live forever on the armed forces' triumph over the LTTE.
Dr. de Silva said that the government should reveal its plans to restore normalcy in areas devastated by floods without flooding the media with press release of its plans. The government couldn't expect the international community to look after the welfare of the Sri Lankans, he added.
The MP urged the government to work out how it depends on international assistance to carry out welfare projects in war devastated areas and those now affected by floods. He pointed out that the UN had called for $51 million in emergency aid in addition to various other agencies seeking assistance to continue their relief operations.
Source: The Island – Pix by
Latest Headlines in Sri Lanka