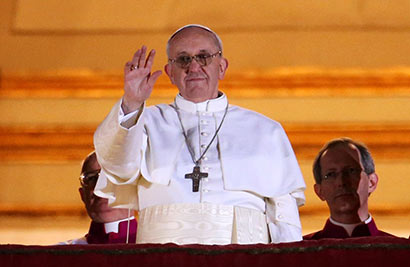 Pope Francis has said that he is considering an invitation from Sri Lanka to pay a visit to the country next year, an AP news report said yesterday.
"He said he was thinking of traveling to the Holy Land next year and is considering invitations from Sri Lanka and the Philippines as well," a report filed from aboard the Papal aircraft quoted the Pope as having said.
Pope Francis' remarks came Monday during a plane journey back to the Vatican from his first foreign trip to Brazil.
He was funny and candid during his first news conference that lasted almost an hour and a half. He didn't dodge a single question, even thanking the journalist who raised allegations, reported by an Italian newsmagazine, that one of his trusted monsignors was involved in a scandalous gay tryst, the AP report said.
AP said that the Pope solved the mystery that has been circulating ever since he was pictured boarding the plane to Rio carrying his own black bag, an unusual break from Vatican protocol.
"The keys to the atomic bomb weren't in it," Pope Francis quipped. Rather, he said, the bag merely contained a razor, his breviary prayer book, his agenda and a book on St. Therese of Lisieux, to whom he is particularly devoted.
"It's normal" to carry a bag when traveling, he said. "We have to get used to this being normal, this normalcy of life," for a pope, he added.
(Courtesy: The Island)