Sri Lankans protest alleged Indian intervention
Posted by Editor on July 30, 2013 - 11:16 am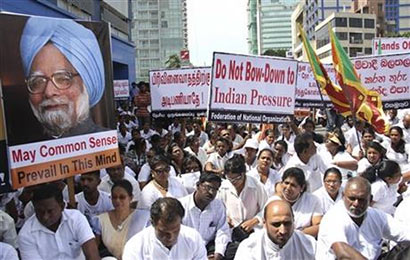 COLOMBO, Sri Lanka (AP) — A group of Sri Lankans urged neighboring India on Monday not to interfere in their country's internal affairs by criticizing plans to withdraw rights from provincial councils set up to share power with ethnic minority Tamils.
About 100 protesters from the Federation of National Organizations, made up of nationalistic groups, staged a silent protest in front of the Indian embassy in Colombo.
The protest came after top Indian politicians criticized the Sri Lankan government's plan to withdraw certain powers from the provincial councils.
In 1987, Sri Lanka and India signed an agreement that led to amendments of Sri Lanka's Constitution allowing the establishment of provincial councils to devolve power in an effort to end Tamil militancy.
However, the Tamil Tiger rebels who were beginning what was to be an unsuccessful civil war for a separate Tamil state rejected the offer, saying the powers were inadequate.
Following that, an Indian peacekeeping force sent to Sri Lanka to help implement the agreement ended up fighting the Tamil rebels before withdrawing in 1990.
New Delhi has been reluctant to become directly involved in Sri Lankan politics since that disastrous military intervention, which left more than 1,000 Indian troops dead, but it has a major interest in the dispute because southern India is home to 60 million Tamils.
The Sri Lankan government promised to allow a greater degree of autonomy in Tamil-majority regions in the island's north after government forces militarily defeated the Tamil rebels in May 2009, ending a nearly three-decade civil war.
However, the government backtracked recently, announcing that it will scrap land and police powers given to the provincial councils.
Indian Prime Minister Manmohan Singh expressed "dismay" at Sri Lanka's plan when he met a group of opposition Tamil lawmakers from Sri Lanka last month.
(AP)
Latest Headlines in Sri Lanka