Powerful Bureau to replace FCID: Through Act of Parliament
Posted by Editor on June 16, 2016 - 10:41 am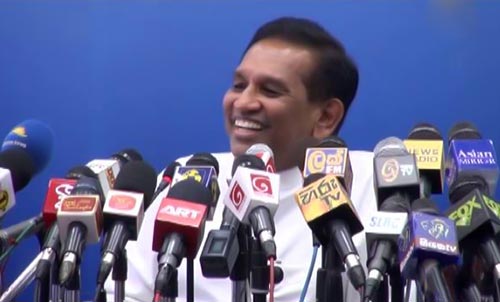 The Financial Crimes Investigation Division (FCID) is soon to be replaced with a more powerful and permanent Bureau with a mandate to investigate financial crimes, Co-Cabinet Spokesman Minister Dr. Rajitha Senaratne said yesterday.
The minister who addressed the Cabinet media briefing at the Government Information Department, stressed that the FCID would remain for the time being until they set up the new Bureau . "Our Manifesto on January 8 promised to establish a unit which will investigate into financial crimes and we did that. But, now we find that we need a unit which is more permanent and able to take on these crimes, especially when it comes to international crimes.
The FCID in its present state is not equipped to handle that," Dr. Senaratne said.
Similar to the process of setting up the FCID in February 2015, the IGP would need to gazette the Bureau but this time around, the Bureau would come into effect through an Act of Parliament.
"We expect the process to take around five to six months,"the Co-Cabinet Spokesman said.
The current term of the FCID is to end on June 30 and with no extension announced, it gave rise to speculation that the FCID would soon be disbanded. The mandate of the FCID includes investigations into major financial crimes, frauds, unsolicited mega projects, major financial crimes against public property, money laundering, terrorist financing, illegal financial transactions, unlawful enrichment, and offenses of financial crimes against national security.
Prime Minister Ranil Wickremesinghe last week announced that the FCID had completed investigations into 44 cases and sent them to the Attorney General's office.
The Cabinet Paper was submitted by the President in his capacity as the Minister of Defence.
(Source: Daily News – By Zahrah Imtiaz)
Latest Headlines in Sri Lanka