Premier Turnbull hails President Sirisena's great reconciliation programme
Posted by Editor on November 3, 2017 - 9:26 am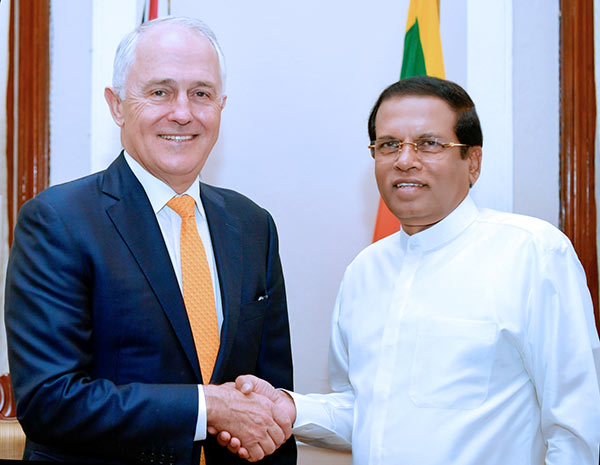 Australian Prime Minister Malcolm Turnbull congratulated President Maithripala Sirisena for the "great reconciliation programme undertaken by the Sri Lankan government".
Mr Turnbull said this when he held bilateral discussions with President Sirisena at the Presidential Secretariat in Colombo yesterday (November 2). Australian Premier thanked the President for excellent cooperation extended to fight transnational crimes including human smuggling and drug trafficking.
Australian Premier assured assistance to further develop Sri Lanka's counter-narcotic capabilities. Furthermore, Australia will assist the National Defence College (NDC) to be set up shortly in Sri Lanka. Mr Turnbull said his government would depute a senior military officer for two years to provide administrative and curriculum expertise and to deliver select course modules to the NDC.
President Sirisena thanked the Australian Prime Minister for continuous assistance provided to Sri Lanka's development activities and support extended at international forums. He made a special mention about the field of drugs and narcotics and said that illegal drugs is a major problem for Sri Lanka. He pointed out that because Sri Lanka is an island, many international narcotic cartels use this country as a hub for smuggling activities. He thanked Australia for assisting Sri Lanka's coastal security operations by providing fast naval patrol crafts in the last few years.
Prime Minister Turnbull said Australia would gift 3 Stabicraft vessels for coastguard operations. "They are fast crafts and very useful for coastal operations," he said.
President Sirisena thanked the Australian Prime Minister for the new trade and investment agreement which would further enhance trade and investment cooperation between the two countries. Prime Minister Turnbull and Prime Minister Ranil Wickremesinghe witnessed signing of a bilateral Trade and Investment Framework Agreement today at the Temple Trees.
President Sirisena thanked Premier Turnbull for paying this visit to Sri Lanka, though the visit was a very brief one.
Premier Turnbull said that he was glad he could visit Sri Lanka in this 70th anniversary year of diplomatic relations between the two countries. President and PM of Sri Lanka also visited Australia and all these result in further strengthening bilateral relations, he said.
State Minister of Foreign Affairs, Wasantha Senanayake, Secretary to the President, Austin Fernando and Foreign Secretary Prasad Kariyawasam were also present on this occasion.
(President's Media)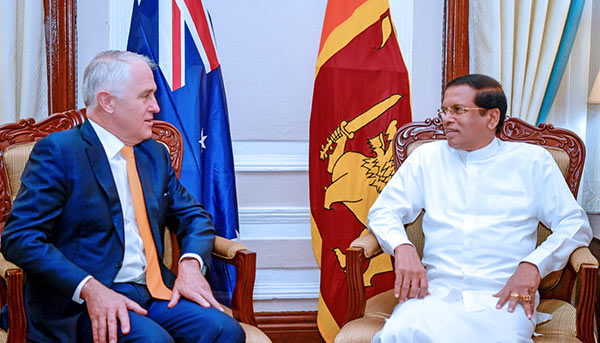 Latest Headlines in Sri Lanka