President's Promise to Wimal's daughter
Posted by Editor on July 12, 2010 - 1:40 am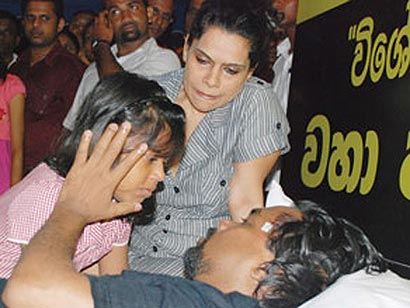 Answering a phone call from President Mahinda Rajapaksa, the weeping wife of Minister Wimal Weerawansa requested from President to rescue her husband in any possible way.
While talking to President, Wimal's wife has mentioned that their daughter has been refusing food since last night as her father is on hunger strike.
When President Rajapaksa contacted Wimal's daughter over the phone, she has pleaded the President to bring her father home for lunch tomorrow. "If you have dinner tonight I will definitely bring your father home tomorrow" promised the President.
Thereafter President has contacted the Doctor consulting Wimal Weerawansa, and said "Doctor, I have promised Wimal's daughter that her father would be home for lunch tomorrow. She only had her dinner because I told so. Can't you explain Wimal about his daughter's situation?, asked President.
The Doctor said that he can perfectly understand the situation as I also have a daughter he replied.
This morning (10) President after contacting Minister Wimal called several members of his party to Temple Trees.
At the moment the United Nation (UN) has also issued a release regarding Wimal Weerawansa's fast unto death.
According to the release the three member panel is not a committee to investigate on Sri Lanka but is a panel to advise the Secretary General on Sri Lankan issues. The release further stated that the Sri Lankan Government should not panic and demonstrate on this issue.
President held lengthy discussions with Minister, Deputy Minister and the Secretary of External Affairs ministry and NFF representatives including Jayantha Samaraweera.
They are looking for solutions for the problems raised by the International elements such as that this is a plot of the SL Government as Wimal's Cabinet Portfolio, ways of safeguard the friendship between the UN and SL government and to come to a conclusion which will have no impact on Minister Wimal and his conduct.
Keeping in mind his promise to Wimal's daughter, President directed the NFF representatives to explain to Wimal the problems faced by the Government and about his daughter's condition and to convince Wimal give up the fast.
President had decided to visit Wimal Weerawasansa along with the NFF representatives.
He was informed by Wimal's doctor that Wimal can only survive another 12 hours as his Kidneys would be directly affected due his fast.
When President contacted Wimal to explain about the physical impact on him, Wimal had replied "Sir even if you come I will not give my fight".
"It is impossible to explain to Wimal the current situation" President told the NFF representatives and then asked them to in anyway explain the stand of the UN to him.
The representatives of the NFF told President Rajapaksa that they would try and convince Wimal to give up the fast and explain him on the UN stand.
Lanka Puvath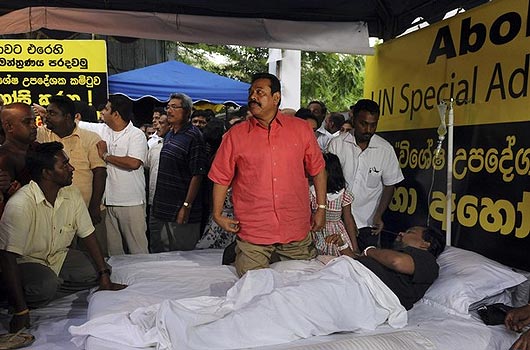 Latest Headlines in Sri Lanka