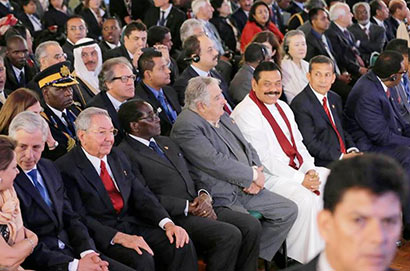 President Mahinda Rajapaksa on Saturday evening attended the opening ceremony of the Golden Jubilee of the Summit of Heads of State and Government of the Group of 77 and China (G77+China), held at the Expo Cruz Center in Santa Cruz, Bolivia. The Summit was organized under the theme "For a New World Order for Living Well." The plenary session of the Summit will commence Sunday morning (Bolivia time)
Heads of State of and high-level delegations of the 133-member Group of 77, and heads of many international organizations were among the dignitaries who attended the opening ceremony, which was held under the patronage of the current G77 Chairman, the President of Bolivia Evo Morales, U.N. Secretary-General Mr. Ban Ki-moon and the U.N. General Assembly President Mr. John W. Ashe.
G77 reflects the brotherhood among developing nations, President Morales said adding that it was able to achieve much during the past 50 years. However, the world at present is faced with many crises, he pointed out. Economic and financial crises, power, conflict in values and climate change are the main challenges among them. To eradicate poverty and hunger, to build a better global society, a structural change in the current global system is needed, emphasized the Bolivian President adding that the G77 has a vital role to play in that process.
G77, which represents half of the world's population, should be creatively engaged in the formation of the post–2015 global development agenda, Secretary–General of the United Nations Mr. Ban Ki-moon said. If the world is to win over climate change, an international treaty with a legal obligation is a must, he added.
Even though South-South cooperation, a main objective of the G77, is a major boost for the future of the world, it should not be a reason to reject South–North cooperation, U.N. General Assembly President Mr. John W. Ashe said.
Minister of External Affairs Prof. G.L. Peiris, Monitoring MP of the Ministry of External Affairs Sajin de Vass Gunawardena, Secretary to the President Mr. Lalith Weeratunga, Secretary to the Ministry of External Affairs Mrs. Kshenuka Senewiratne, Sri Lanka's Permanent Representative to the United Nations Dr. Palitha Kohona and Sri Lanka's Ambassador in Cuba Mr. Sarath Dissanayake were also present at the inauguration ceremony.
(President Media)