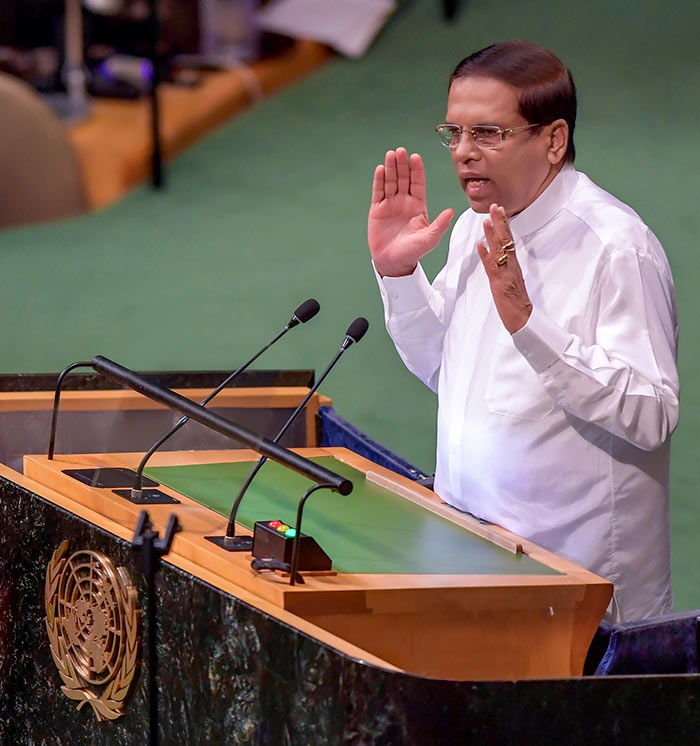 President Maithripala Sirisena called upon the world leaders to emulate Nelson Mandela, who showed the correct path by his humanitarian qualities and the love for the people.
Addressing the Nelson Mandela Peace Summit held on the sidelines of the 73rd Session of the United Nations General Assembly yesterday (24 September) at the UN Headquarters in New York, President Sirisena said Mandela was a great statesman and epitome of reconciliation.
He thanks the UN Secretary General and others for organizing the Nelson Mandela Peace Summit to honour such a great humanitarian leader who showed the path of true reconciliation to the world.
Mandela was a leader who showed how to use power for the benefit of the people and give up power without any greed for power, he said and added that there is a dearth of such leaders today.
"I wonder how many of the leaders have the qualities displayed by Nelson Mandela and I feel that it is for the leaders to emulate Mandela and enter the correct path displayed by Nelson Mandela," he told the assembly of world leaders and other top delegates.
The Plenary Session of the Mandela Peace Summit will also adopt a Political Declaration covering policing guidelines for a gamut of areas including peace, democracy, rule of law and human rights.
Today (September 25) President Sirisena is scheduled to address the 73rd session of the United Nations General Assembly. This year's theme of the general debate is "Making the United Nations Relevant to All People: Global Leadership and Shared Responsibilities for Peaceful, Equitable, and Sustainable Societies."
(President's Media)