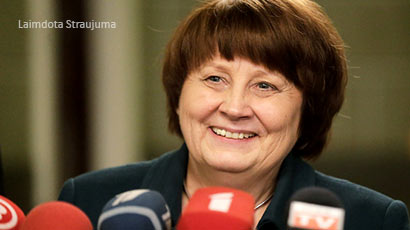 President Mahinda Rajapaksa has written to congratulate the new Prime Minister of Latvia Laimdota Straujuma. Extending his best wishes, President Rajapaksa described the appointment of the country's first female prime minister as "a landmark event in the history of Latvia."
A long-serving civil servant, Prime Minister Straujuma was nominated by Latvian President Andris Berzins and confirmed last month.
"Warm and abiding relations that exist between our two countries have been characterized by friendly and mutual understanding," President Rajapaksa further said in describing the bilateral relations between the two nations.
President Rajapaksa, in the letter, also said he is confident that the "cordial ties will be further strengthened during your tenure in office."
(Courtesy: President Media)