Thevrapperuma suspended from UNP for manhandling, abusing Ranil in filth
Posted by Editor on February 7, 2014 - 8:32 am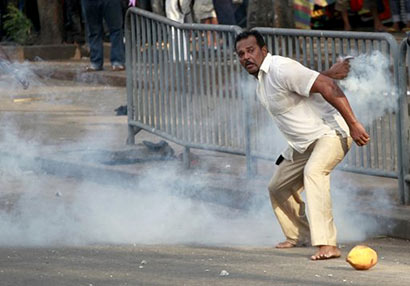 FILE PHOTO –
Kalutara District UNP MP Palitha Thevarapperuma, who manhandled the party's National Leader Ranil Wickremesinghe at Wednesday's parliamentary group meeting, was suspended from the party yesterday.
Informed sources said that the notice of suspension had been served on Thevarapperuma and also copied to the Disciplinary Committee of the UNP.
According to the UNP leader's complaint Thevarapperuma abused him in filth, grabbed him by the coat and attempted to drag him back to the chair immediately after he had got up to leave the meeting.
Thevarapperuma's grouse was that two of his nominees had not been included in the Kalutara District candidates' list for the forthcoming Western Provincial Council Election, a senior parliamentarian who was present at the meeting said. "No matter what the issue was it was very ugly to see one our colleagues behaving in such a rowdy manner. He not only abused the leader in raw filth but also grabbed him by the coat and attempted to drag him back to the chair. If not for the others intervention, Mr. Wickremesinghe may have even been assaulted. I feel ashamed to be in the company of such an MP."
(Courtesy: The Island)
Latest Headlines in Sri Lanka