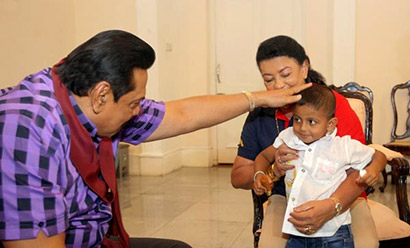 President Mahinda Rajapaksa yesterday had lunch with Danindu Yashen, who was rescued from his kidnappers on Friday and his family at the President's House.
The senior police officers who worked day and night behind the scene to ensure the recuse of the four-year-old child were also felicitated by the President. They are Deputy Inspector General of Police in Charge of the CID Ravi Seneviratne, its Director Senior Superintendent of Police R.L. Ranaweera, and Assistant Superintendent of Police Wijesekera. Inspector General of Police N.K. Illangakoon, too, graced the occasion.
Danindu was also provided with toys by the President.
The CID has been provided with detention orders to interrogate the four suspected kidnappers arrested on Friday night.
Detectives are also trying to find out whether they were involved in similar crimes in the past.
(Courtesy: The Island)