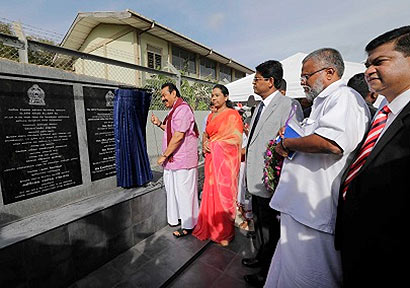 President Mahinda Rajapaksa inaugurated the Chunnakam Grid substation connecting the Jaffna peninsula with the national grid after a lapse of two decades, Saturday (14) evening.
Over 63 Mw of power is to be transmitted to the Jaffna peninsular through the substation for which the Government has spent Rs. 1,800 million. Over 120,000 households and the small and mega scale industries in the peninsula will be supplied electricity from the national grid.
With the new connection, 24 MW Uthuru Janani Power Plant get connected to the single grid network of the country.
Kilinochchi Grid Substation was earlier connected to the 132 kV high voltage Grid in September 2012.
Earlier the Jaffna Peninsula was powered by the power from the Lakshapana hydropower plant but after 1990 Jaffna got isolated from the national grid due to terrorist activities. The north was then powered through large scale private generators.
Ministers Pavitha Wanniarachchi, Douglas Devananda, Northern Governor G.A. Chandrasiri and Chief Minister of the Eastern province Najib A. Majid were present at the occasion.
(Source: Government News Portal)