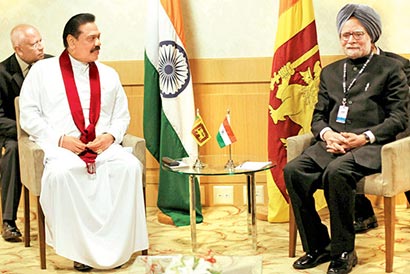 President Mahinda Rajapaksa and Indian Prime Minister Dr Manmohan Singh on Thursday stressed they would not leave any room for a disruption of the longstanding ties and friendly relations between Sri Lanka and India.
There are ample opportunities to resolve contentions issues if any, through friendly discussion and dialogue, they emphasised when they met in Rio de Janeiro on the sidelines of the United Nations Conference on Sustainable Development Rio+20.
During the meeting, President Rajapaksa and Prime Minister Singh recalled the historic ties and friendly relations between the two countries and said they would pay constant attention to guarding and protecting them.
A press release by the President's Media Unit said the proposed scheme to build 50,000 houses in the North and East with Indian assistance also figured at the bilateral talks between
the Sri Lanka President and Indian Prime Minister. It was agreed to start work on this project immediately. Construction work on the Sampur Power Plant was also discussed during the meeting.
A meeting between the Sri Lanka and Indian delegations preceded the bilateral talks between the two leaders.
Ministers Prof G L Peiris, Anura Priyadarshana Yapa, Wimal Weerawansa, Patali Champika Ranawaka and Mahinda Amaraweera, Deputy Minister Ms Nirupama Rajapaksa, Parliamentarian Sajin Vaas Gunawardene, Secretary to the President Lalith Weeratunge and Sri Lanka's Permanent Representative in the UN Dr Palitha Kohona were also present.
Courtesy: Daily News