Iran, Sri Lanka ask for new world order
Posted by Editor on June 23, 2012 - 9:05 pm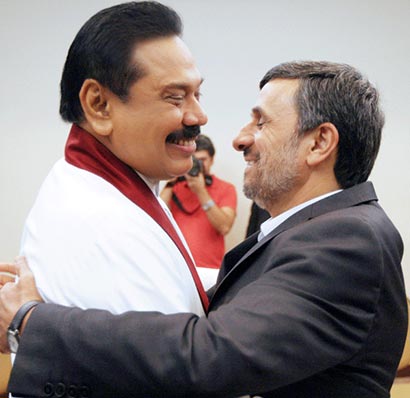 Iranian President Mahmoud Ahmadinejad and Sri Lankan President Mahinda Rajapaksa stressed the need for establishment of a new world order in their meeting in Rio de Janeiro, Brazil on Friday.
Ahmadinejad and Rajapaksa met on the sidelines of Rio+20 UN Conference on Sustainable Development.
"Cooperation among independent states is essential for their progress forward; the justice-seeking nations should cooperate to design a new global order; those who are behind today problems do not deserve designing the new order."
"Independent states are under great pressures from hegemonic powers but they should understand the fact that the pressures including the sanctions and resolutions will not affect nations' desire to resist; the biggest violators of human rights use the issue as an excuse to confront sovereign nations."
"Arrogant powers use also environmental issues as an excuse to pressure developing nations but if they were real defenders of environment; they would change their polluting technologies."
The Iranian president noted that those who afraid of change of the world current order are designing plots to weaken independent states and prevent their progress; Non-Alignment Movement summit in Tehran is an opportunity to make positive steps in favor of independent nations; Today's world lacks independent movements and NAM has the capacity to fill the gap.
Ahmadinejad also underlined that Iran is committed to expand cooperation with Sri Lanka.
Sri Lanka's president for his part, welcomed development of bilateral relations with Iran, noting that NAM should become stronger to confront the pressures posed by arrogant powers.
"Holding of NAM summit in Tehran can boost its role in the international community," he noted. (IRNA)
Latest Headlines in Sri Lanka