President instructs IGP to work with university authorities to prevent ragging
Posted by Editor on February 23, 2017 - 9:03 am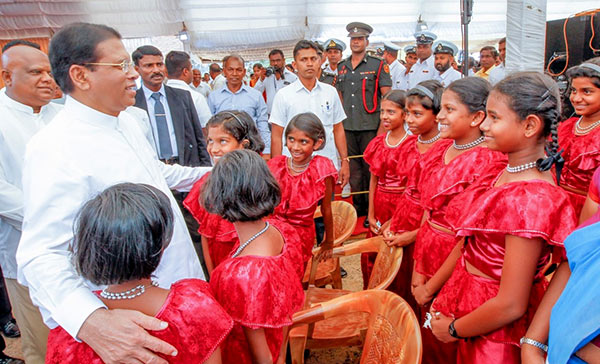 President Maithripala Sirisena says he has given instructions to the Inspector General of Police to pay special attention to prevent inhuman ragging in universities carried out by a minority group of students in order to interrupt the education of the majority of students. He also instructed the IGP to implement an initiative jointly with the University Authorities in this regard.
The President further said that the Government has responsibility regarding the future of the university students and the President also emphasized that the Government will fulfill that duty without any hesitation.
He made these remarks participating in the 75th anniversary celebration of the Ananda Shastralaya in Matugama, yesterday (22).
President Sirisena stated that the recent ragging related incident at the Agricultural Faculty of University of Peradeniya is a tragedy of the free education and further said that he made inquiries regarding this issue from the Senior Superintendent of Police of Kandy and expressed the deepest regret of the Government about this incident.
The President said that tarnishing the good image of universities which produce scholars and intellectuals, through these kind of incidents is a dishonour to the free education and said that a number of  black marks on ragging incidents have been added to our history of the university system during the past 40-50 years.
During the Second World War schools in the city limits of the Colombo turned into British army camps at that time the Ananda Shastralaya was established in the Sri Sudarshanaramaya in Matugama as a branch of the Kotte Ananda Shastralaya on February 23,2017.
President Sirisena expressed appreciation over the forward journey of the school since its establishment.
The President unveiled a statue of the founder of Matugama Ananda Shastralaya and former Finance and Justice Deputy Minister, Daya T. Pasqual erected on the premises of the school.
The newly built Technology Lab vested with the students by the President.
A special memento was presented to the President. A portrait of President drawn by a student from the School was presented to President Sirisena at the event.
The People's representatives,including,Ministers Mahinda Samarasinghe, Rajitha Senaratne,Deputy Minister Palitha Thewarapperuma,Former Minister Kumara Welgama, the Principal,Mr.Randun Jayalath and the staff of the school,parents,past pupils and many others participated in this event.
(President's Media)
Latest Headlines in Sri Lanka