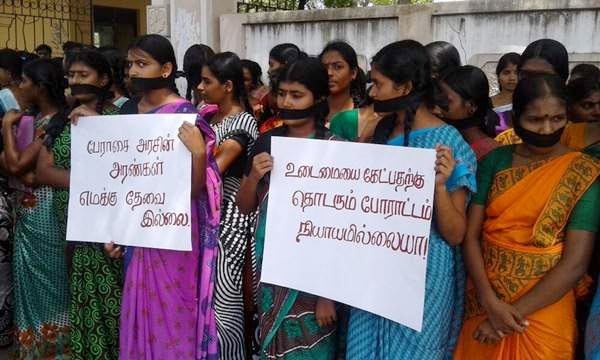 Sri Lankan Tamils agitating for the last twenty days on the issue of forced disappearances and non-return of lands by the military, have, for the first time, kept the movement apolitical and did not involve any political party.
They were apparently inspired by the successful apolitical mass agitation in Tamil Nadu to get the ban on Jallikattu (bull taming) lifted.
"Having watched on Tamil Nadu satellite TV channels the participation of the masses from every walk of life in the Jallikkattu agitation, and the success that they scored without the aid of political parties, people here feel that a  similar  movement will succeed in Sri Lanka also," said D.Siddharthan, a Tamil National Alliance (TNA) MP from Jaffna district.
S.Thavarajah, of the Eelam Peoples' Democratic Party (EPDP) and Leader of the Opposition in the Northern Provincial Council (NPC), said that the Tamils here are going by the Jallikattu model because political parties have manifestly failed to press their case in regard to the burning issues of the day.
Though the Sirisena-Wickremesinghe government faces the brunt of the agitators' wrath for its failure to keep solemn promises, the TNA and other parties also get brickbats, as they too had made promises which they had failed to keep.
"However, the political parties have no option but to support the agitation. We will even encourage it," Siddharthan said.
Parties opposed to the TNA and the factions within the TNA which are opposed to its leaders, support the agitation more vocally because it gives them a good stick to beat their opponents with.
In Siddharthan's view, it is the government's image which will be tarnished at the end of it all, especially if the agitation is allowed to drag on the specious ground that, over time, people will get tired of it and abandon it.
This is because the issues highlighted by the agitators are too genuine and longstanding for the government to ignore and the people to forget, Siddharthan reasoned.
According to Thavarajah, the armed forces hold as much as 2000 acres of land in Mullaitivu district, including State land and private lands originally belonging to civilians.
"This is much too much to hold, eight years after the war," he said.
In Kepapulavu and Pilakudiyiruppu, the land occupied by the military is 524 acres belonging to 84 families. Some of these displaced families have deeds. Many do  not have deeds but they were cultivating lands with renewable permits. Because of the war, they could not renew the permits.
Immediately after the war, some people were given lands at a distance and the army built houses for them on these lands. But the people complained that they had dig 40 ft to get water. The land was also barren, no comparison with their originals lands.
(Source: The New Indian Express)