CID officers wanted retired Army intel officer to state what they want: Wimal
Posted by Editor on February 24, 2017 - 7:07 am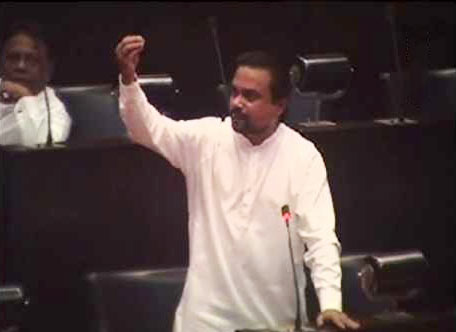 NFF leader and Parliamentarian Wimal Weerawansa yesterday charged that some CID officers had assaulted a retired Army Intelligence Officer to get him to state what they wanted in connection with the Keith Noyahr investigation. He made this observation in Parliament yesterday while Minister Mahinda Amaraweera commenced speaking with regard to the intelligence officers whom MP Weerawansa spoke about earlier.
Weerawansa said the intelligence officers were taken into remand custody. He added that Major Bulathwatta was among them.
He said it was peculiar that the CID investigators went to Australia to take a statement from Keith Noyahr. The other matter was that the CID had sent the photographs of these officers to Noyahr and later he identified them at the identification parade. The other matter is that these officers had been arrested based on their phones being in the vicinity of the Dehiwala Telecommunication tower at the time of the abduction of Noyahr.
He said it was a fact that the Police does not come under the President but the Army comes under the President. He requested Minister Mahinda Amaraweera not to allow the Police officers who come under Prime Minister to harass Army Officers who come under the President to which Minister Amaraweera replied definitely.
(Source: Daily News – By Sandasen Marasinghe and Disna Mudalige)
Latest Headlines in Sri Lanka