President instructs officials to complete proper waste management programme by December
Posted by Editor on August 16, 2017 - 7:12 am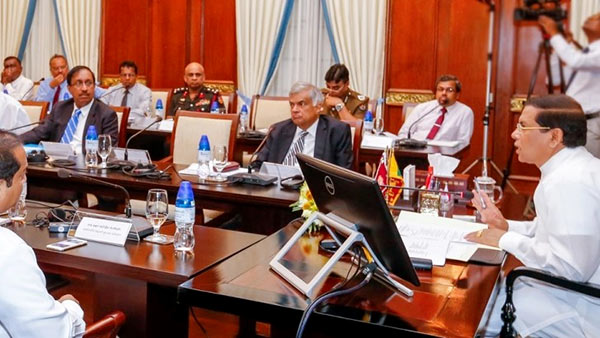 President  Maithripala Sirisena instructed the officials to complete the implementation of proper waste management programme in the nine provinces of the country by December, in accordance with the Government policy of providing a permanent solution for the garbage disposal issue of the country by next year.
He has given these instructions during a discussion on streamlining the waste management in the nine provinces, held at the Presidential Secretariat, yesterday (15).
The President inquired the officials about the current progress of the disposal of waste in the City of Colombo and suburbs and it was also discussed regarding the streamlining of waste management in local government bodies under the environment conservation national programme.
Discussions were also focused on the problems that have arisen due to the lack of garbage management in the shanty areas and regarding further promotion of public awareness campaigns on waste management.
During the discussion, the attention was paid on the current progress after initiating new plans under the guidance for waste management. They also discussed the progress of obtaining the required equipments and vehicles.
Attention was also paid on the implementation of cabinet recommendations to minimize the usage of polythene and plastics.
Special attention was paid on creating of long term program to clean dirty canals in Colombo and suburbs.
Prime Minister Ranil Wickremesinghe, Ministers Patali Champika Ranawaka, Gayantha Karunathilaka, Akila Viraj Kariyawasam, Sagala Ratnayake, Sarath Fonseka, Chief Minister of Western Province Isura Dewapriya, Secretary to the President Austin Fernando, Secretaries to the Ministries, Government Officials, IGP and the heads of security forces also joined in this discussion.
(President's Media)
Latest Headlines in Sri Lanka