President lauds Malcolm Cardinal Ranjith's service to country
Posted by Editor on December 7, 2010 - 5:48 am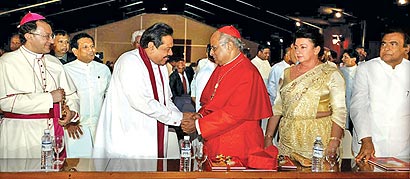 President Mahinda Rajapaksa yesterday said Catholics as a peace loving fraternity in the country should extend their maximum support to protect and promote the peace won by the country. He added that the true state of affairs related to the country should always be disseminated to the world if peace is to prevail in the country.
The President said no one can be honest to the world, if he does not truly love his native land.
The President was speaking at the State ceremony at the BMICH to felicitate His Eminence Malcolm Cardinal Ranjith who was elevated to the Cardinal by His Holiness Pope Benedict XVI.
President Rajapaksa added peace and freedom is far elusive for those who do not show more commitment to truth.
He lauded His Eminence Malcolm Cardinal Ranjith's service to protect the country's dignity during the time Sri Lanka was fighting with one of the most ruthless terrorist outfits in the world.
The President added that His Eminence was among the Catholic fraternity who voiced displeasure when the civil rights of the World First Woman Prime Minister Sirimavo Bandaranaike were denied by the then Government.
President Rajapaksa said the elevation of His Eminence Malcolm Cardinal Ranjith to the solemn and distinguished office of Cardinal in the Roman Catholic Church is an honour to the people and country at large.
The President added that His Eminence always thought of his motherland even at time when he was out of the country.
He added that His Eminence always did not believe that people living in cottages should live there for ever. He showed more commitment to uplift their lives, he added.
President Rajapaksa stated that His Eminence extended assistance to the underprivileged immensely without expecting nothing in return.
He added that His Eminence took every possible effort in building religious harmony. Sri Lankans have inherited a great quality of respecting other religions and believes and we have not experienced religious disputes or war among the people of different faiths in our country?, he added.
The President added that the Government has embarked on a massive program to renovate all places of religious interests devastated by terrorism in the North and East. Prime Minister D M Jayaratne, Former President Chandrika Bandaranaike Kumaratunga, Speaker Chamal Rajapaksa and Chief Justice Ashoka De Silva were present.
Source: Daily News
Latest Headlines in Sri Lanka