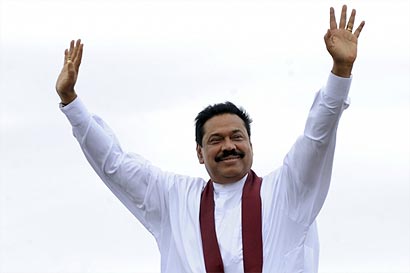 President Mahinda Rajapaksa left for Bahrain this morning on a two-day state visit. This is the President's first visit to the country.
During the tour, the President will hold bilateral discussions with His Majesty King Hamad bin Isa Al-Khalifa, the King of Bahrain, and the two countries are also scheduled to sign several memorandums of understanding on a number of different sectors.
The President is being accompanied by a business delegation and will attend a meeting between Sri Lankan and Bahraini business communities.
As is customary, President Rajapaksa will also meet with the Sri Lankan community in Bahrain before conclusion of the visit.
The kingdom of Bahrain is a small island state situated near the western shores of the Persian Gulf. In addition to being an oil rich country it has heavily invested in the banking, finance and tourism sectors. The country's capital Manama is home to many large financial structures. In recent times Bahrain has been rated as one the fast growing economics in the Arab world.
Formal diplomatic ties between Sri Lanka and Bahrain were established in 1992.
(President Media)