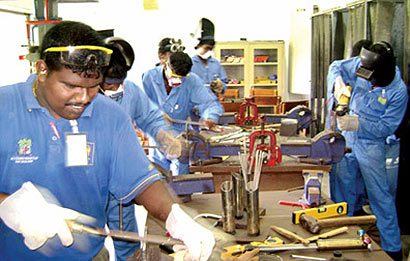 Sri Lanka's Ministry of Youth Affairs and Skills Development recently signed Memoranda of Understanding with two non-state vocational training institutes, the Don Bosco Technical Training Center and ORHAN (Organisation for the Rehabilitation of Handicapped) to facilitate skills training needs of people in the North and to prepare them for enrollment in vocational training courses conducted by the fully-fledged Sri Lanka – German Training Institute (SLGTI) in Kilinochchi.
The SLGTI, which is scheduled to be completed by 2015, is part of the "Vocational Training in the North of Sri Lanka" (VTN) initiative, which is a collaboration between the governments of Sri Lanka and Germany. It is expected to greatly enhance vocational skills training and employment opportunities for the people in the Northern Province, including secondary school leavers, unemployed or underemployed youth, young people from disadvantaged backgrounds and population groups particularly affected by the war, including war widows.
At present, eight Feeder Training Centers (FTCs) have been identified in the Northern Province to conduct National Vocational Qualification (NVQ) Levels 3 and 4 to prepare students for the more advanced NVQ Level 5 and 6 courses that will be conducted by SLGTI once it becomes fully functional. These FTCs currently offer six diploma training programs and four trade courses in line with NVQ Levels 5 and 6.
A significant number of participants at the trade courses conducted by the FTCs are females (more than 30 percent), in both in-house and on-the-job training programs. The Don Bosco Vocational Training Center in Vavuniya caters to 100 per cent female participation in the trade course on "Information and Communication Technology (ICT)." At the ORHAN Feeder Training Center, also in Vavuniya, 70 percent of participants are persons with disabilities. This Center is geared especially to promote training programs for individuals with disabilities with the objective of greater social and economic empowerment of the differently-abled population in these areas.
In addition to the above, three new Vocational Training Centers and three Recognition of Prior Learning (RPL) Centers have been established with the support of World University Services of Canada (WUSC) in Kilinochchi, Mullaitivu and Vavuniya districts to promote vocational education among re-settled people.
(LLRC News)