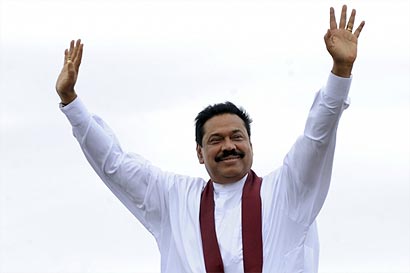 President Mahinda Rajapaksa, along with First Lady Shiranthi Wickramasinghe Rajapaksa, left this morning on a five-day visit to New York during which he will address the 68th session of the United Nations General Assembly (UNGA), taking place at the UN headquarters in New York City.
President Rajapaksa will participate in the general debate of the UNGA and is scheduled to speak on Tuesday, Sept. 24. This is the sixth time the President is attending the UNGA. President's first address to the UNGA was in 2006. When the President addressed the UNGA last time in 2011, less than three years after the end of the war, he said, "The most significant challenge to stability and progress in the modern world is posed by the menace of terrorism." He went on to say, "Whilst clash of ideas, opinions and values continues we have clearly to recognize that dialogue, deliberation and consensus offer the only viable means for resolving differences. The might of powerful nations cannot prevail against justice and fair play, "during that address.
In addition to taking part in the UNGA, President Rajapaksa is also scheduled to participate in a number of bilateral discussions that include ones with the UN Secretary-General Mr. Ban ki-Moon, Commonwealth Secretary-General Mr. Kamalesh Sharma and several heads-of-state from Africa, the Middle East and Asia.
During the week in New York City, the President will also take part in a high-level political forum on sustainable development and host a dinner for African leaders.
The Minister of External Affairs Prof. G.L. Peiris, Minister of Irrigation and Water Resources Management Mr. Nimal Siripala de Silva, Minister of Youth Affairs and Skills Development Mr. Dullas Alahapperuma, Monitoring MP of the Ministry of External Affairs Sajin De Vaas Gunawardene, Member of Parliament Mr. Lohan Ratwatte and Secretary to the President Mr. Lalith Weeratunga are accompanying President Rajapaksa on the visit.
(Courtesy: President Media)