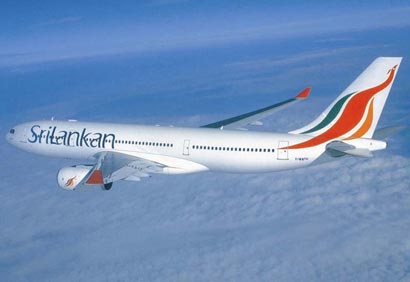 The SriLankan flight UL503 operating from Colombo to London Heathrow Airport was diverted and landed at Stansted (STN) Airport due to a "bomb threat" initiated by a passenger on board which is now appeared as "false claim," an official said today.
This incident occurred last night at 1947hrs (London local  time) just before the flight started its descent to land at London Heathrow Airport when a passenger identified as a British National of European origin informed the crew that he had brought in a parcel containing a bomb and handed it over to someone to be taken on-board the flight.
"This passenger has now been identified as one of the two British nationals of European origin who had been  handed over to the crew by the Sri Lankan Immigration authorities as deportees who had overstayed their visas in Sri Lanka," Deepal Perera, Manager Media Relations (Corporate Communications) at SriLankan Airlines said.
He stated that the Captain had notified air traffic control at London Heathrow Airport of the situation and upon their instructions the flight was diverted to London Stansted (STN) Airport as a precautionary measure.
Upon landing at Stansted all passengers were safely disembarked from the flight and they were subject to a thorough screening process by the Security Authorities. Thereafter the passengers were transported to London Heathrow Airport by Coach to meet normal immigration formalities, Perera said in a statement.
There were a total of 252 passengers including six infants and 17 crew members onboard the UL503 which was an Airbus A330 aircraft.
On completion of the security procedures at Stansted the aircraft will be flown to London Heathrow to operate the return flight UL504 from London to Colombo. The joining passengers of this flight from London have been transferred to hotels awaiting the departure to Colombo.
"British Authorities are conducting further investigations into this incident and the passenger concerned who made the false bomb threat has been arrested," he said.
(Courtesy: Ada Derana)